Cain Velasquez officially earns rematch with Fabricio Werdum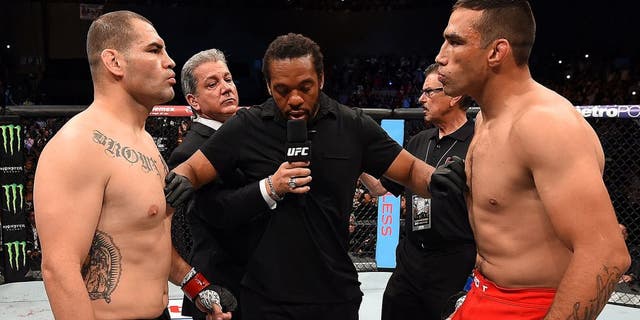 The next UFC heavyweight title fight will be a rematch after all.
UFC president Dana White has confirmed that new champion Fabricio Werdum will face former titleholder Cain Velasquez in a five-round rematch with a date still to be determined for the heavyweight bout.
White confirmed the news to UFC Tonight's Ariel Helwani on Wednesday.
Werdum beat Velasquez in June by third-round submission to claim the heavyweight title for the first time in his career.
The fight was nearly a year in the making after Werdum was scheduled to meet Velasquez in 2014 before an injury prevented the bout from taking place. Werdum instead knocked out Mark Hunt to win the interim title before unifying the belt with the win over Velasquez in June.
Velasquez will attempt to bounce back from arguably the worst defeat of his entire career. While losses haven't happened very often for the American Kickboxing Academy heavyweight, Velasquez struggled with the altitude in Mexico City, where the fight with Werdum took place, and by the third round he looked out of gas before surrendering to submission.
Now Velasquez will look to come back stronger and better than ever and he tries to reclaim the heavyweight title when he meets Werdum for the second time.
With the matchup officially happening, UFC officials will now just need to find a time and date for the bout to occur, with anytime between late 2015 and early 2016 most likely to land the heavyweight title fight.