Cain Velasquez Looks To Finish Antonio 'Bigfoot' Silva Again At UFC 160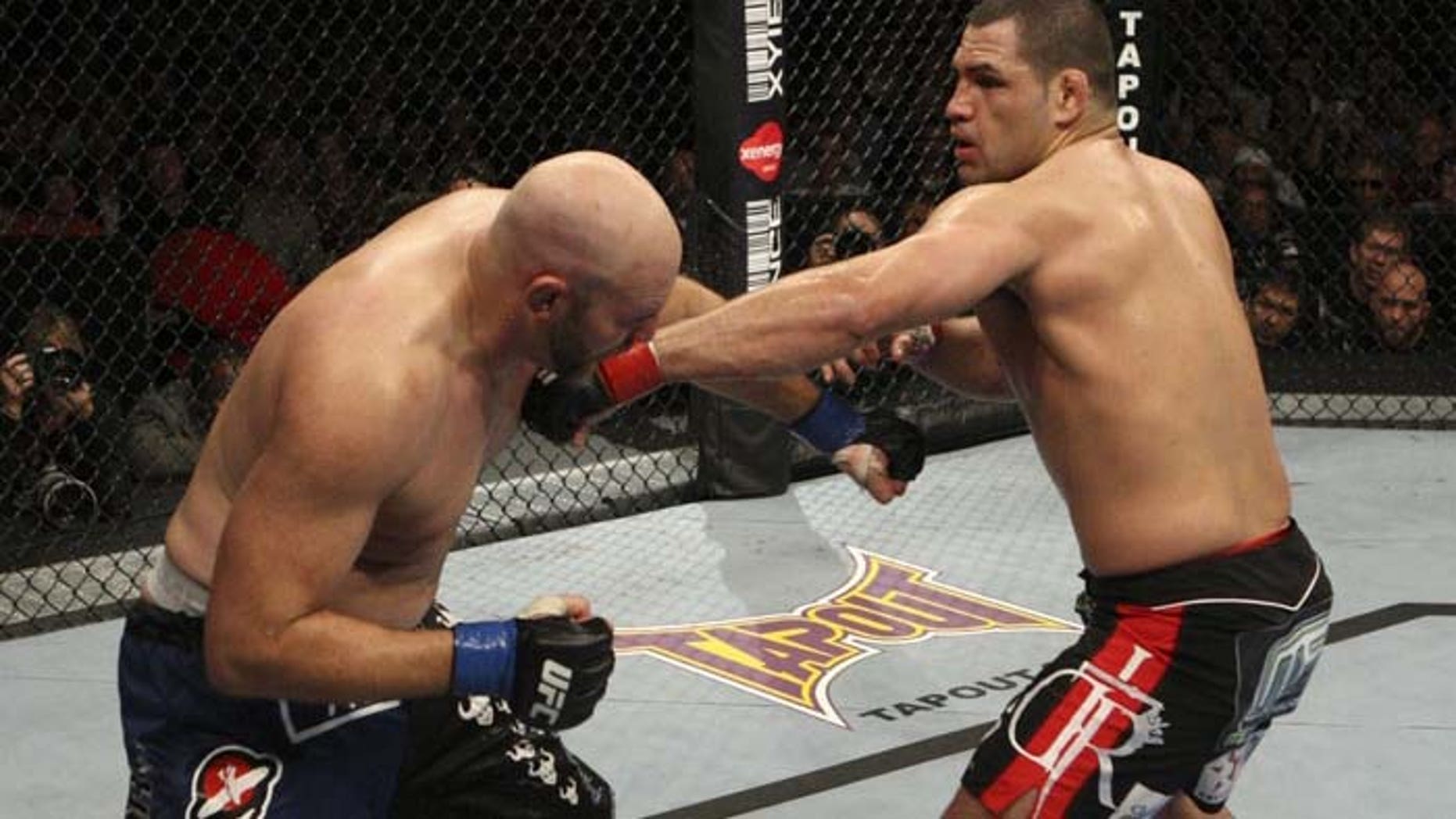 Cain Velasquez, the UFC heavyweight champion, is reaching a stage in his career where fans and pundits alike are starting to wonder who can actually beat him in the near future.
Over a year ago at UFC 146, Velasquez (11-1 record) took less than one stanza in his matchup with Antonio Silva [18-4] to place the giant Brazilian on his back and ground and pound him to a resounding victory.
Another opponent down.
On Saturday night at UFC 160 from the MGM Grand in Las Vegas, Silva will try to avenge what some saw as a surprisingly embarrassing loss after an elbow had him bleeding all over the Octagon floor.
For Velasquez, it was a defining performance that erased memories of his own rapid surprising loss to Junior Dos Santos at UFC. He was proactive, determined, and re-established himself as unquestionably the best heavyweight in the world.
So what can fans expect from meeting between Velasquez and "Bigfoot"? There's not much that has seemingly changed that would make one think Silva can vanquish Velasquez.
Silva may have gotten past Alistair Overeem with a third-round stoppage at UFC 156 as well as Travis Browne last October, but neither of those guys would have been favorites over Velasquez.
Perhaps some would have adored a Velasquez-Overeem match-up but his loss to the slower and frankly overwhelmingly less athletic Silva illustrated that perhaps the Dutchman wasn't ready yet.
Either way, those victories mean that Silva is the contender once more for Velasquez's crown. But given that his fighting makeup has not really changed, it would be hard to assume Silva stands any sort of chance. If you take him lightly, his power is still a force to be reckoned with. The trouble is that Velasquez's own quick loss to dos Santos will ensure he won't take any future opponents lightly.
Velasquez is remarkably quick, has one of the best takedowns in the sport and is a dynamo given his conditioning. Saturday night will likely be a question of when not if he can defend his title.
Junior dos Santos - Mark Hunt
If Junior dos Santos wins on Saturday, then there's a very good chance he could book a third fight in the trilogy with Velasquez. Dos Santos [15-2] of course was beaten convincingly by Velasquez at UFC 155, but in a division that is lacks the depth of the lighter weight classes dos Santos will likely get the shot if he wins. But first he has to get past the dangerous Hunt, who could well derail all of those plans.
As for Hunt [9-7], his stock has risen sharply in the last couple of years given victories like the literally jaw breaking defeat of Stefan Struve. He carries frightening power but lacks obvious versatility with aspects such as defense, although this is steadily improving.
Dos Santos will be the most technically able opponent Hunt has faced yet, offering the ability to land takedowns if he so chooses (although he generally stays away from the floor if he can help it) as well bringing fast and accurate punches and strikes to the table. If he avoids the brawl that the granite-chinned Hunt so desperately craves, then fans could be in for an uncertain and exciting finish.
Hunt might lack the stamina, as evidenced in his victory over Struve where he unquestionably started to tire, but his power and eagerness to stand and trade will be in his favor.
Dos Santos knows that he maintains distance and uses his vastly larger gas tank, all the chips would be in his favor. But whether he does that is another thing. If fans want to see an exciting bout then they best hope the Brazilian throws all caution to the wind and engages with "The Super Samoan".
Glover Teixeira - James Te Huna
If you're looking for the walking definition of form, then look no further than Teixeira, who has won 18 straight fights. The last three of these have come in the UFC, including the defining fight of his career so far against Quinton Jackson. Teixeira [20-2] if nothing else is brimming with confidence. And why not? Aside from the long roll of victories to his name, Teixeira is facing Te Huna who is a replacement for Ryan Bader. Te Huna is not as accomplished as Bader, and in a Bader fight, Teixeira would have still been favorite.
Te Huna is on his own win streak, albeit a much shorter: Tthree, including a victory over Ryan Jimmo, who had him in trouble with a head kick. Teixeira is a significant step up in competition, something Te Huna has tried once against Alexander Gustaffson only to be beaten.
Expect a quick victory for Teixeira to edge ever closer to a quite frankly impressive twenty victories.