Cain Velasquez coach: I didn't do my job before Fabricio Werdum fight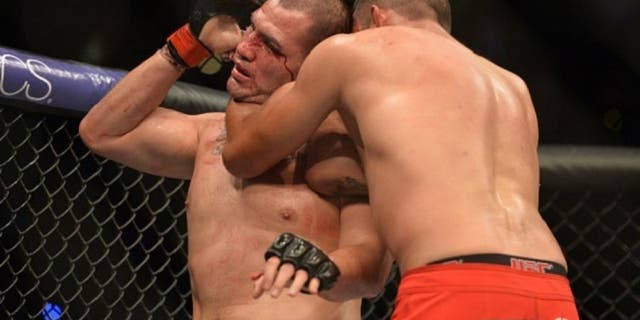 In advance of UFC 188, then-champion Cain Velasquez did not want to train in the event's host city Mexico City to adjust to the thin air at its high altitude, according to his coach Javier Mendez. The AKA founder said that he had to try hard to ultimately convince the heavyweight to spend just a couple weeks training in Mexico City before he faced Fabricio Werdum.
Werdum, on the other hand, had spent months training at altitude just outside of Mexico City over the past year or so as he prepared, first for UFC 180, and then 188 -- both in the nation's capital. Werdum would go on to beat Velasquez after appearing to better absorb and come back from big strikes then the defending champion.
For the first time in his career, Velasquez was beaten up and tired out in a fight. Often billed as "Cardio Cain" by fans and media members, the wrestler had long been known for having some of the best conditioning in the sport of MMA.
Now that Cain is set to rematch Werdum, presumably in a location at or near sea level, Mendez blames himself for not having Velasquez prepared as well as Werdum was.
"I screwed up," he said during a recent interview with TalkingBrawlsMMA.
"I screwed up the last time. The bottom line is it was my responsibility to prepare my fighter in the best possible way and that night I didn't. I failed at my job. Regardless of Cain saying it was his fault -- it wasn't. It was my fault. It was my responsibility to look into the altitude and all that. I screwed up and I won't make that mistake again."
According to Mendez, it was clear to him that Velasquez being less prepared to deal with fighting at altitude would be a problem from very early on in the bout with Werdum. "One minute into it, he took Fabricio down then he gets up and I notice he was breathing pretty heavy and I'm like, 'Oh sh**.' I knew there were problems right there. I've never seen that from him. I was very concerned going through the fight. He was in trouble the whole time. Nothing we were doing was working. His legs were gone. It was like Fabricio was Superman. 'Hit me with everything you got, he ain't hurting me.'"
Mendez went on to say that Velasquez not being ready for the altitude of Mexico City was the single biggest factor to his losing the heavyweight crown to Werdum. Since they are not likely to rematch at altitude in 2016, the coach doesn't believe any real changes in their training will be necessary.
"For me 110 percent [lack of altitude training] was the main factor," he maintained.
"It was the best Cain I've ever had [in training camp]. He was 100 percent healthy. He was in the greatest shape. He was going through everyone [at the gym] no problem. No injuries, no nothing. Then to go over there and he looks like the worst Cain I've ever had -- I don't know how to explain it."
In the end, Mendez wasn't making excuses. Being the better fighter is all about being the better prepared fighter.
"Fabricio is a really, really good fighter and you can't make a mistake. Obviously, it showed. They didn't make mistakes and we made plenty," he said.
"They did the work. That's what the fight game is all about. You've got to be prepared. He did his job. His coaches did their jobs. I didn't."