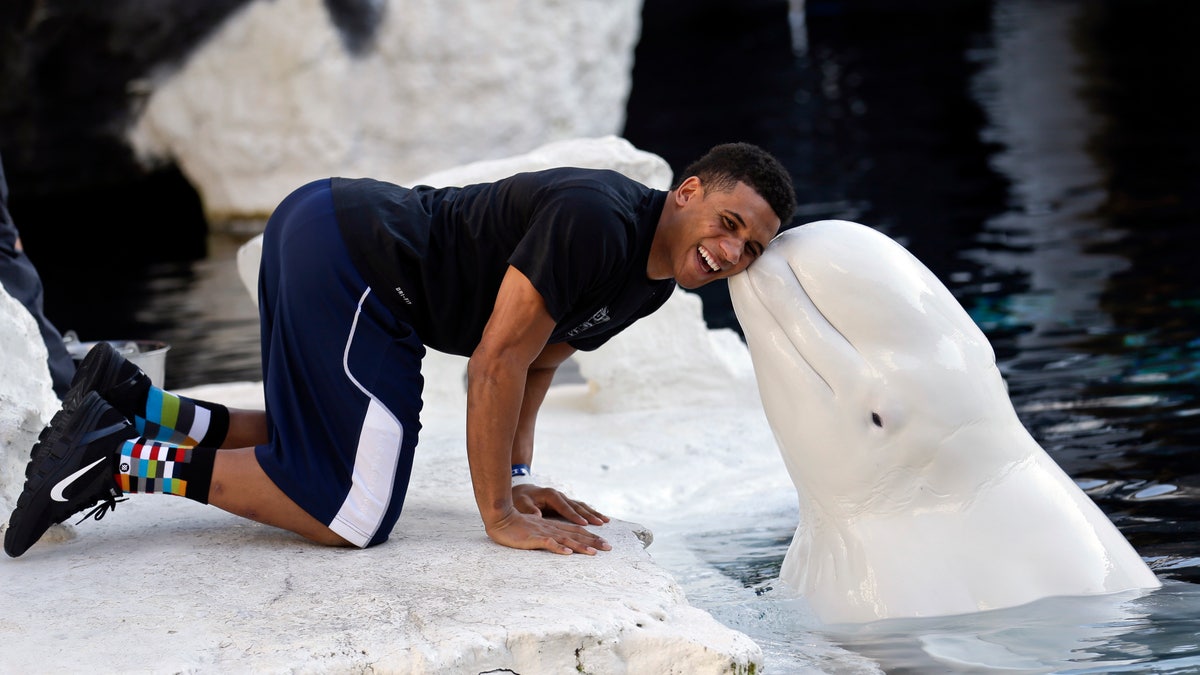 SAN DIEGO – Rocky Long and Bronco Mendenhall will leave it to the fans to get all worked up about the revival of the BYU-San Diego State rivalry.
Just two years after a botched review of an apparent fumble tainted what appeared to be the final game between the schools, the Cougars (7-5) and Aztecs (9-3) will meet in the Poinsettia Bowl on Thursday night at San Diego State's home stadium, Qualcomm.
As much as SDSU fans loved to hate the Cougars during their rivalry in the Western Athletic Conference and then the Mountain West Conference, they really howled in 2010.
In an episode known as "Replaygate," BYU running back JJ Di Luigi fumbled against the Aztecs in Provo and San Diego State coach Brady Hoke asked for a review. Officials ruled there was not enough evidence to rule it a fumble. BYU scored five plays later en route to a 24-21 victory.
Six days later, Mountain West Conference athletic directors decided to ban employees or alumni of the host school from serving in the communicator position in the instant replay booth. The three replay officials reportedly were suspended for one game.
SDSU fans didn't get over it, even though BYU bailed from the MWC to become independent in football. SDSU, which has won seven straight games, will leave the league after this season for the Big East in football only.
Still, Long and Mendenhall — who worked together on New Mexico's staff for five seasons — aren't interested in rehashing it.
"Oh yeah, it's ancient history," said Long, who was SDSU's defensive coordinator that day and was elevated to head coach after Hoke left for Michigan following that season. "I don't worry about the fans. I only worry about the 100 guys we've got on the team."
Said Mendenhall: "I've already been asked that a number of times, with people saying this is a giant rivalry game and there's a vendetta, etc. Again, being at BYU I've learned there are a lot of axes to grind. I don't even remember the game, to be honest with you. I know Rocky's team will be ready to play. Hopefully, I can get our team ready as well. That's really what my focus is on."
BYU leads the series 27-7-1 and has won five straight against the Aztecs.
Then there's the familiarity Long and Mendenhall have with each other. When Long was head coach at New Mexico, Mendenhall was his defensive coordinator from 1998-2002. Mendenhall also was defensive line coach at Oregon State in 1995 when Long was defensive coordinator.
"I don't think it makes a darn bit of difference," said Long, who led the Aztecs to a share of the MWC title with Fresno State and Boise State. "Bronco and I are friends and we know each other very, very well. But Bronco's not making one tackle, he's not catching one pass. Guess what? He's not calling probably one offensive play. I'm not making a tackle. I'm not carrying the ball. I'm not calling one offensive play.
"When he first became the D coordinator at BYU, we could watch each other from the sideline and know exactly what defense was being run, because we used the same signals that meant the exact same thing," Long added. "And by the time I read his signals there was no time to get it to the quarterback or the offense before the ball was snapped. So after the first year, I stopped watching him. So I don't even know what his signals are now. I'm sure they're different. So just because we know each other has nothing to do with the game. The guys you'll see here in a little while wearing jerseys around? They're going to decide who wins the game."
Long and his 3-3-5 defense will have their hands full with BYU receiver Cody Hoffman, who had 90 catches for 1,134 yards and 11 touchdowns. Long said the Aztecs have to prepare for both BYU quarterbacks, Riley Nelson and James Lark. Nelson likely will start. With Nelson out for the regular-season finale with a rib injury, Lark made his first start and completed 34 of 50 passes for 384 yards and six touchdowns, with no turnovers, in a 50-14 win at New Mexico State.
The 6-foot-4, 215-pound Hoffman had a school single-game record five TD receptions among his 12 catches for 182 yards against New Mexico State.
"There is a huge matchup on the outside between our corners and Hoffman, because he is so big and strong and fast," Long said. "We've got a couple pretty good corners, but they're not as big and strong as he is."
The Cougars, who allow only 84.3 yards rushing per game, will have to try to stop SDSU sophomore Adam Muema, who averaged 6.4 yards per carry in running for 1,355 yards and 16 touchdowns.
"He's very, very good," Mendenhall said. "I've seen a number of tackles missed on him. If that part can be contained, relatively, then their point production goes way down. If we're not able to get him on the ground consistently, then they'll control the momentum of the game."
BYU will be making its 12th bowl appearance in San Diego. The first 11 were in the Holiday Bowl, the big brother of the Poinsettia Bowl.
SDSU is playing in a bowl game for an unprecedented third straight year and will be trying for its first 10-win season since 1977. The Aztecs beat Navy in the Poinsettia Bowl in 2010 under Hoke and lost to Louisiana-Lafayette in the New Orleans bowl last year, Long's first season in charge.
Hoke and then Long have changed the expectations of a once sad-sack program.
"I think we're at a critical point in our program now that it has to be expected, and if you don't get it, it's not acceptable," Long said about the three straight bowl appearances. "I wouldn't have said that two years ago. Just getting to a bowl game was a big-time accomplishment."