BYU Dismisses Player From Basketball Team for Violating School's Honor Code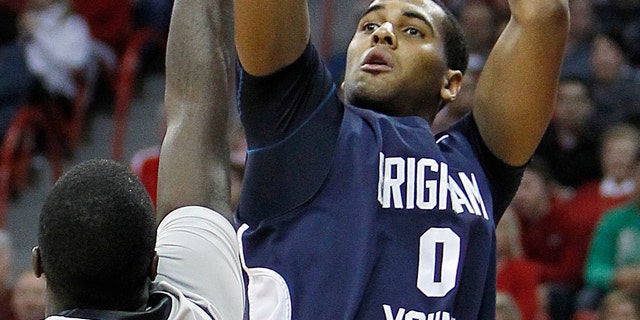 SALT LAKE CITY -- BYU's dreams of a deep run in the NCAA tournament may have taken a major blow Tuesday when the third-ranked Cougars dismissed starting forward Brandon Davies from the team for the remainder of the season.
The school cited a violation of the school's honor code in announcing the move Tuesday evening.
Davies, who grew up in Provo, had started 26 of 29 games for the Cougars and averaged 11.1 points and a team-leading 6.2 rebounds.
The 6-foot-9 sophomore was instrumental in helping contain San Diego State's forwards in the Cougars' 80-67 victory over then-No. 6 San Diego State on Saturday.
The win vaulted BYU to No. 3 in the latest Associated Press poll as the Cougars improved to 27-2 overall (13-1 Mountain West) and swept the regular-season series over the Aztecs (27-2, 12-2) for the third straight year.
"It's unfortunate. I feel bad for BYU," San Diego State coach Steve Fisher said.
The school does not release details of such violations, but officials said coach Dave Rose would address Davies' situation following Wednesday's game against New Mexico.
The Cougars lost Jan. 29 in New Mexico, and were counting on help from Davies to secure a win Wednesday night as well in the conference and NCAA tournaments.
BYU was intent on winning the Mountain West Conference tournament next week in Las Vegas, of gaining a No. 1 seed in the NCAA tournament and advancing past the second round, where the Cougars lost last season.
All-America guard Jimmer Fredette remains the Cougars' biggest scoring threat at a nation-leading 27.3 points a game. Backcourtmate Jackson Emery is second in scoring at 12.6 points and Davies was third.
"Wow," said San Diego State forward Malcolm Thomas, who wasn't aware of the suspension until told by reporters after the Aztecs' victory at Wyoming. "He's a big-time player and without him, they're still a good team. They're still going to make a run."
Davies played 27 minutes in the win over the Aztecs. He had four points, six rebounds and one blocked shot but helped contain San Diego State's big men.
He has put up some bigger numbers this season.
He had 20 points and nine rebounds in a win at Wyoming on Feb. 2, had double-doubles at UNLV (15 points, 10 rebounds) and against Colorado State (14 points, 15 rebounds).
Rose could switch to a smaller lineup by moving 6-5 Charles Abouo to power forward or he could lean more heavily on 6-8 sophomore Stephen Rogers or seldom-used 6-10 junior James Anderson.
BYU already was shorthanded after losing 6-9 sophomore Chris Collinsworth for the season because of injury.
Davies commanded the most attention inside, opening things outside for Fredette and Emery.
School officials said they became aware of the honor code violations Monday. His future with the team and the university has not yet been determined.