BYRNES: NASCAR Means Business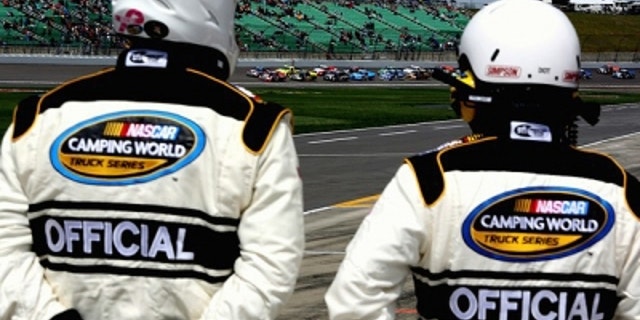 It's time to play by the rules … or else.
If anyone doubted how serious NASCAR is about policing the inspection process, they doubt no more. After the sanctioning body lowered the boom on Matt Kenseth's No. 20 Joe Gibbs Racing team on Wednesday for engine violations, there now is zero skepticism in the garage area over whether NASCAR means business when it comes to the rules.
Joe Gibbs Racing isn't alone, however, as Penske Racing awaits its appeal hearing next week of penalties levied against both the No. 2 and 22 teams for rear-end housing violations found at Texas Motor Speedway. Throw in then-NASCAR Camping World Truck Series points leader Johnny Sauter's fuel cell-foam violation this week, and you've got one busy NASCAR penalty box.
While all these violations involve different parts of the cars or trucks, the bottom line is the days of pushing the envelope and hoping to skate are gone. NASCAR means business and apparently is willing to go to any length to prove that. Just ask Kenseth, who would have done better to have skipped the Kansas race than suffer the 50-point penalty, six-week suspension of his crew chief, Jason Ratcliff, and a $200,000 fine, among other hefty penalties.
While everyone marvels at the severity of recent penalties, especially in the NASCAR Sprint Cup Series, NASCAR is wise to keep its arms around enforcement of the rule book. When they first introduced the Car of Tomorrow a few years ago, they levied a huge fine against Chad Knaus and the No. 48 team at Sonoma. I remember being in a meeting afterward and hearing NASCAR say they weren't going to "let all those little puppies get out of the box. If we let someone get away with it now, it will be too late."
They're obviously taking the same approach in 2013 of driving home the point that teams are not to cross the line. Teams were told in the off-season what the specifications of the new car are, and instructed not to tinker with them. NASCAR planned from the beginning to police the new Gen-6 car tightly. That's not to say they were tolerant or would turn their head in the past, but a lot is riding on this car, and I think NASCAR is going to be more vigilant than ever.
That vigilance includes monitoring the so-called "gray area" in the rulebook. I've observed there now is a lot less gray area in which teams can play than in the past. Every single team has a rulebook, and if they attempt to interpret the rules in their own manner, they will be nabbed. NASCAR is operating under virtually a zero-tolerance policy this season.
When I entered the sport in the mid-1980s, the mindset of every single team was to push the rules as far as they could and take whatever punishment might befall them, which usually meant a difficult run through the technical inspection line the next weekend. That's the old way of thinking. Trying to get away with working in the gray area no longer earns teams a simple headache and delay in the tech line next week – it now nets points penalties and suspensions that could destroy an entire season.
But amidst the knowledge that getting caught with something outside the boundaries is costly to a team, some good emerges: the professionalism of the sport is elevated. There always were accusations in the past about a particular team enjoying an advantage in the inspection process or getting a bigger restrictor plate at Daytona and Talladega. I won't say that never happened, but those questions are nonexistent nowadays. There are more inspectors and officials in the garage today, and the process by which cars are certified and inspected is airtight.
Teams now operate in a very tight box, but that isn't necessarily a bad thing. There are no hints of favoritism or uncertainty with regard to guidelines. NASCAR isn't the butt of jokes about its favorite team winning the race or getting away with murder in the inspection line. Everything is more professional, more on the up-and-up, and that is good.
Teams, crew chiefs and engineers might not like it, but with the steep penalties of late, you can bet they won't try to circumnavigate it too much anymore. That is, unless they want to be points-less and penniless.