Bylsma, Trotz, Vigneault are Jack Adams nominees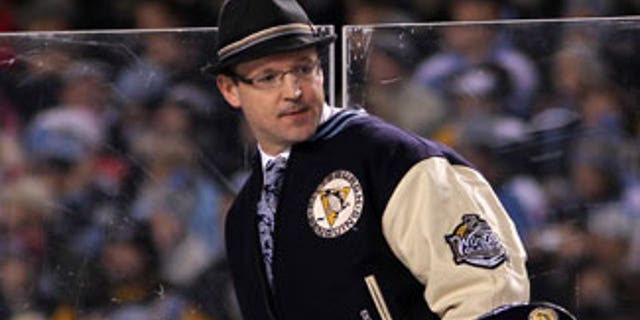 Not only does the Western Conference semifinal-round series between the Vancouver Canucks and Nashville Predators feature a battle on the ice between two finalists for this year's Vezina Trophy, Roberto Luongo and Pekka Rinne, but it also has plenty of star coaching power behind each of the benches.
Vancouver's Alain Vigneault and Nashville's Barry Trotz were nominated for the Jack Adams Trophy, the NHL announced Friday, along with Pittsburgh's Dan Bylsma. The Adams, handed out each year to "the NHL coach adjudged to have contributed the most to his team's success," will be presented on June 22 at the 2011 NHL Awards in Las Vegas.
Under Vigneault, the Canucks set franchise records this season with 54 wins and 117 points en route to capturing the Presidents' Trophy as the League's top regular-season team. They ranked as the best offensive (3.15 goals per game) and defensive (2.20 goals-against average) club and also had the League's top power play (24.3 percent), while narrowly missing out on being the top penalty-killing squad as well (85.6 percent, tied for second). Since arriving in Vancouver for the 2006-07 season, Vigneault has led the Canucks to four Northwest Division titles and as many seasons of at least 100 points.
Trotz is the second-longest tenured coach in the League behind Buffalo's Lindy Ruff and remains the only coach the Nashville franchise has ever known. This is the sixth time in seven seasons that he has led the Predators to the Stanley Cup Playoffs, and his defense-first philosophy has allowed the team to be successful year in and year out despite rarely boasting star-caliber talent. The Predators finished third this season in teams goals-against average (2.32) and fifth in penalty killing (84.9 percent), while tying for sixth in average shots allowed (28.8).
Bylsma may have done his best work behind the bench this season, which is saying something considering he took over a flailing Pittsburgh team more than halfway through the 2008-09 season and led the Penguins to their first Stanley Cup title in 17 years. Despite playing half the season without superstars Sidney Crosby and Evgeni Malkin, and having to deal with numerous other injuries to key players, Bylsma led the Penguins to 49 wins and 106 points, the best totals the franchise has put up since the 1992-93 season when it went 56-21-7 for 119 points.
Tickets to the 2011 NHL Awards are available via Ticketmaster.com at nhl.com/awardstickets and at the Pearl Concert Theater Box Office. Tickets include access to the 2011 NHL Awards show and the official NHL Awards Party, a cocktail reception to be held immediately following the show. Guests must be 21 or older to attend the NHL Awards Party.