By the numbers: How Johnson stacks up to Earnhardt and Petty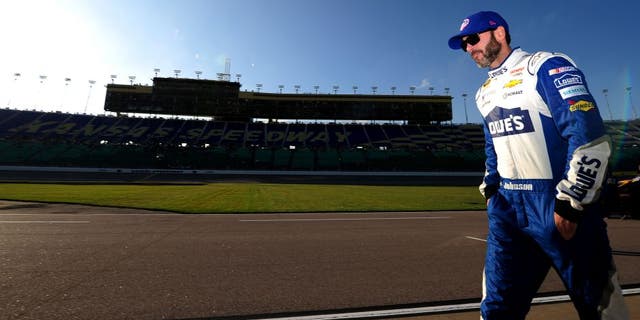 NEWYou can now listen to Fox News articles!
The stage is set for Jimmie Johnson to join historic company on Sunday at Homestead-Miami Speedway if he can win the Sprint Cup championship for the seventh time.
Only Dale Earnhardt and Richard Petty have hoisted the trophy that many times in NASCAR's Premier Series.
While Johnson has become known as six-time, he'll happily drop that moniker to join The King and The Intimidator at the top of the NASCAR mountain.
Johnson faces stiff competition from Joey Logano, Kyle Busch, and Carl Edwards at Homestead but if he accomplishes the historic feat, here's how his numbers will stack up to those of Petty and Earnhardt.
If Johnson grabs the championship on Sunday, at 40 years old he'll be the youngest of the three to win a seventh championship. Petty was 41 in 1979 when he became the first driver to reach seven and Earnhardt was 43 in 1994 when he tied Petty.
Johnson can also be the quickest to seven in terms of full-time seasons in the Premier Series as he's in his 15th. The King took 20 full-time seasons to grab No. 7, while Earnhardt did it in his 16th.
As far as number of wins at the time of winning their seventh championship, nobody will ever come close to Petty's 190 from 1960 to 1979, he'd ultimately finish with 200.
Johnson has 79 career wins and will likely need to grab 80 in order to get the title. The driver of the No. 48 Hendrick Motorsports Chevrolet already has more career wins than Earnhardt, who finished his career with 76 and had 63 when he won his seventh title in 1994.
You can compare the numbers as much as you want but ultimately, Johnson has already locked up his spot among the greatest drivers to ever put on a helmet.
He's already seventh all-time in wins with a spot in the top 3 in reach, has compiled 217 top 5 and 329 top 10 finishes in his career and has a career average finish of 12.1 that ranks right up there with the greats in the sport.
So, whether he can close the deal for his seventh championship at Homestead or finishes his career with six, Johnson's greatness should be appreciated by everyone.
Either way, it seems like it might take a few years before fans accept how impressive this run has been.