Buzz: Player's stitches net $6,500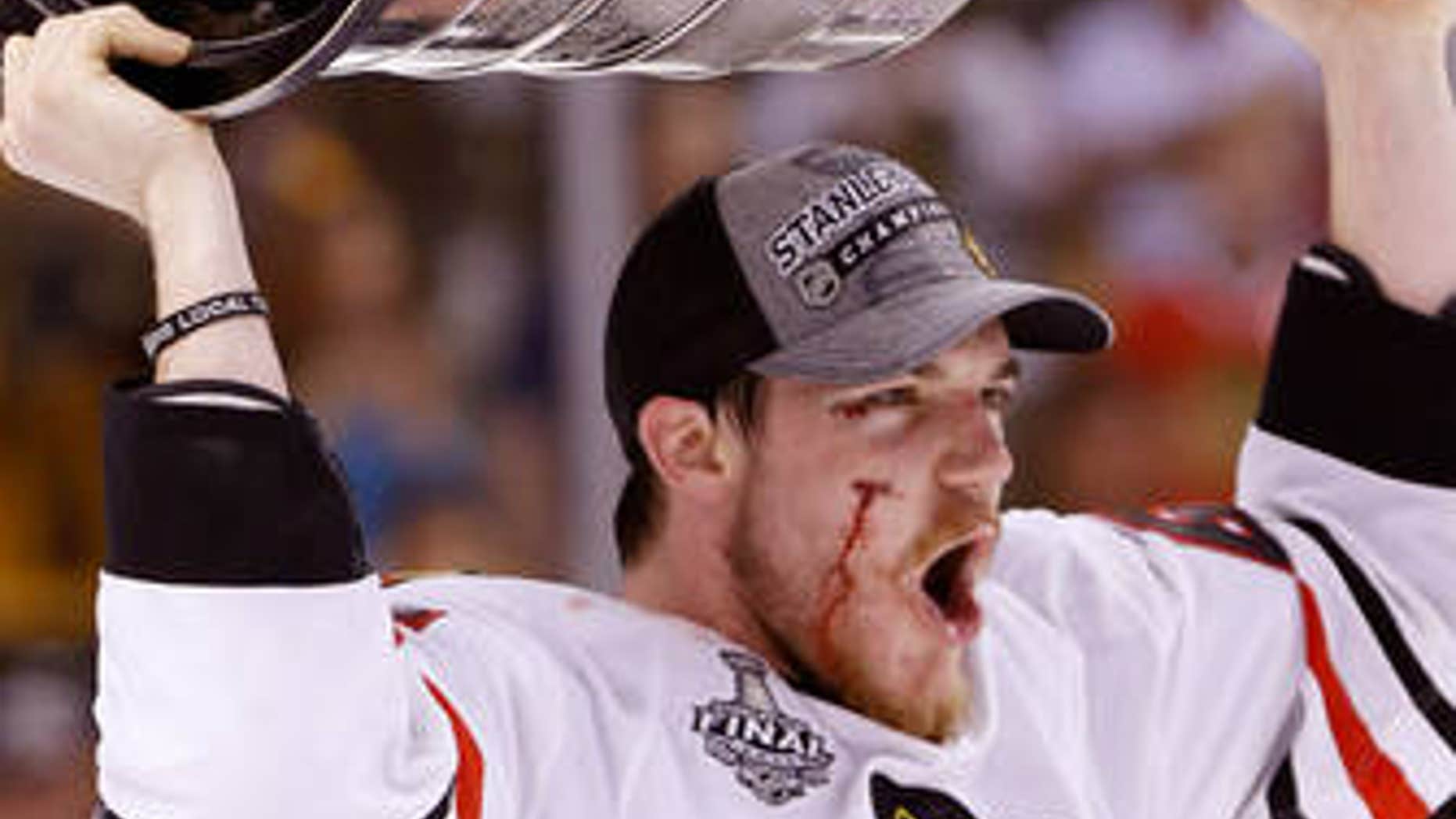 A few weeks ago we brought to your attention a strange online auction for Andrew Shaw's stitches from Game 6 of the Stanley Cup Finals.
Well, the bids are in, and the stitches have a new owner who is no stranger to ponying up for odd Chicago sports artifacts.
Sunday night, the auction's official Facebook page announced that Grant DePorter, CEO of Harry Caray Restaurant Group, made the $6,500 winning bid in the eBay auction. All of the proceeds will go to The Jimmy V Foundation for Cancer Research.
It is just the latest odd collectible purchased by DePorter, who made news in 2003 when he paid $113,824.16 for the infamous "Bartman Ball" from the 2003 NLCS, then blew it up on live television:
DePorter, in the past, has also paid $8,962.50 for the ball used in the last out of the 1945 World Series, when the Cubs lost to the Detroit Tigers, and $16,567 for Sammy Sosa's corked bat.
He has also purchased a ball from Kerry Wood's 20-strikeout game, a Paul Konerko grand slam ball and Orlando Palmeiro's "last out bat" from the White Sox's 2005 World Series win, and the batting gloves Starlin Castro wore in his six-RBI MLB debut.
After the Blackhawks' 2010 Stanley Cup win, DePorter spent months trying to find the puck used for Patrick Kane's series-winning overtime goal in Game 6, and offered a $50,000 reward. He didn't end up getting that piece of Blackhawks memorabilia -- it was eventually tracked down but not for sale -- so he made it a point not to lose this one.
"A lot of people thought i would go after Andrew Shaw's Stitches and they were right," DePorter wrote on Facebook Sunday night, via DNAInfo . "The Ebay Auction just ended and I won.
"I spent 8 months going after the 2010 Stanley Cup missing puck but could not get it in the end. I could not let this pass by too. In the end the stitches went for $6,500. I will put them at Harry Caray's at Navy Pier when they arrive. The money went to a great cause the V Foundation."
Generally speaking, it would be hard to justify dropping $6,500 on some used stitches, but in this case, that's a pretty cool way to spend some dough.
Now, for some links:
• Jason Collins introduced Macklemore and Ryan Lewis before their "Same Love" performance at the Video Music Awards.
• The Chicago White Sox honored Bo Jackson for his civil rights work.
• Meanwhile, the White Sox bench coach was ejected while bringing out the lineup card :
Here's White Sox bench coach Mark Parent getting ejected while handing in the lineup card. pic.twitter.com/alauOqB0Y5
-- Chuck Garfien (@ChuckGarfien) August 25, 2013 • And that came just two days after White Sox pitcher Chris Sale assaulted an innocent water cooler ( gif via NESN ):
• Polocrosse: When polo meets lacrosse .
• Langston, Okla., is a long way from USC for former Trojans AD Mike Garrett.
• This ball guy gets an A for effort:
Your browser does not support iframes.
• Joe Flacco bought a house from his former center, Matt Birk.
• A cab driver is accusing former Tennessee Titan Keith Bulluck of robbing him of $100 . Bulluck called it a "misunderstanding."
• Orange you glad you picked a different outfit for Sunday's final round at the Barclays?:
Yep, these two oranges are paired today in final round at #libertynational pic.twitter.com/oFGYHI8Jed
-- Steve DiMeglio (@Steve_DiMeglio) August 25, 2013 • The step-grandfather of Bills RB C.J. Spiller went on a shooting spree , then killed himself.
• UNLV basketball player faces two felony charges , is done for the season.
• Via @CorkGaines , here's Alfonso Soriano celebrating a home run that was actually a flyout:
• Here's a look at the life and times of Clint Dempsey.
• A scary hit in a nationally televised game led to a prep football star being airlifted to the hospital with a concussion.
• The Bryan brothers are reaching historic status with their doubles tennis dominance.
• Bret Bielema's wife wearing a pig nose? Bret Bielema's wife wearing a pig nose:
My wife @jenbielema is getting ready for #gameday #NeverYield pic.twitter.com/gS2q0uUbFp
-- Bret Bielema (@BretBielema) August 26, 2013 • A group of naked bike riders in Philly have nothing to hide.
• Father and son catch two bull sharks near Maryland state park.
• Yes, Rory McIlroy and Caroline Wozniacki are still together:
Breakfast at the Wozniacki's! Overdressed, underdressed and not dressed at all! @McIlroyRory @PatrikWoz pic.twitter.com/IBfuM20RHF
-- Caroline Wozniacki (@CaroWozniacki) August 26, 2013 • Blake Griffin returned to campus to play in an Oklahoma alumni game.
• The New Jersey Devils' financial situation was hairier than most realized .
• Evgeni Malkin "fought" a 7-year-old at a Russian charity hockey game:
• Dwyane Wade won't be getting involved in free-agent recruitment this offseason.
• Denard Span's mom gave him some hitting advice, and when he used it he hit a home run .