Buzz: Lester called out for glove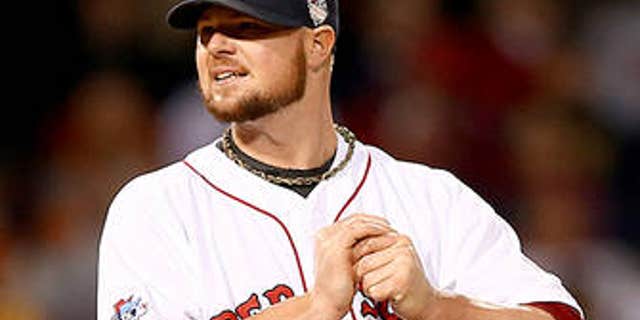 Jon Lester had one of the best postseason starts of his career Wednesday night, throwing 7-2/3 innings of five-hit, shutout ball in an 8-1 win over the St. Louis Cardinals. But some are accusing the Boston Red Sox left-hander of cheating to earn his team a 1-0 World Series lead.
Late in Wednesday's game, Cardinals minor-league pitcher Tyler Melling tweeted a photo of Lester, who appeared to have something in his glove while on the mound. Melling, a High-A prospect who was 3-4 with a 4.93 ERA at Palm Beach this season, suggested that it might be Vaseline, which can be used to doctor baseballs. (He's since deleted the tweet, but here's what it said)
Jon Lester using a little Vaseline inside the glove tonight? pic.twitter.com/IyQn2iqg5f
-- Tyler Melling (@TylerMelling) October 24, 2013 Over at Business Insider Cork Gaines took an even closer look at the Lester situation, including a clearer image of Lester's glove and a GIF of Lester appearing to go to the same area of the glove that Melling called into question.
An Associated Press photo of Lester coming off the mound in the eighth inning seems to show something that isn't leather in the webbing of Lester's glove -- though it's not nearly as brightly-colored as it appeared on TV. However, the substance is not readily identifiable and is hardly indisputable evidence that Lester was doctoring the ball.
This isn't the first time folks have gotten all up in arms about the possibility that a Red Sox pitcher could have been skirting the rules of the game in order to get an edge. Back in May, Clay Buchholz was accused of cheating during a game against the Blue Jays, a charge that he later denied.
We'll probably never know what -- if anything -- was inside Lester's glove during Game 1, and you can just about guarantee that if it was something naughty, it won't be back for Game 5. And it seems the league isn't too concerned over it either.
In a statement MLB spokesman Pat Courtney addressed the matter:
Statement from MLB on Lester allegedly using foreign substance: "We cannot draw any conclusions from this video. There were no complaints...
-- Ken Rosenthal (@Ken_Rosenthal) October 24, 2013 ...from the Cardinals and the umpires never detected anything indicating a foreign substance throughout the game."
-- Ken Rosenthal (@Ken_Rosenthal) October 24, 2013 So the mystery will probably never be solved, but at least now, if nothing else, Cardinals fans have a built-in excuse if the series continues to go the Red Sox's way.
Now, for some links:
- Richard Sherman says he played through a concussion in his first career start -- and pulled down his first interception.
- Jason Terry likes to sleep in his opponents' shorts the night before a game.
- An 8-year-old boy with brain cancer got a chance to meet with the Thunder at a preseason game:
- Jeremy Gallon and Devin Gardner sing during a TV appearance:
- Northwestern released a feature on the special teams unit, including a couple cool trick shots:
- A banner is being raised at the Air Canada Centre -- for Bon Jovi .
- Will Steven Jackson finally be back on the field for the Falcons this week?
- Sometimes you've got to make tough decisions in life:
This @RedSox fan's boss wouldn't give him the day off today, so ... http://t.co/3aPXRktVUG pic.twitter.com/tGTZs5WLRo
-- Cut4 (@Cut4) October 24, 2013 - Greg Jennings sounds a little remorseful about how things went down between him and the Packers this offseason:
Greg Jennings regrets off-season criticism of Aaron Rodgers: "There was things said if I could take back I absolutely would. But I can't."
-- Pioneer Press (@VikingsNow) October 23, 2013 - The NBA Finals format is officially switching back to 2-2-1-1-1 after nearly 20 years of 2-3-2.
- The SEC reportedly asked the NCAA to reconsider its targeting rule .
- Don't you hate when you go to use your bathroom and there's a mascot in the shower?
- Get your Wacha Wacha milkshakes while they last:
Wacha says he went to a sandwich shop in STL and saw a vanilla milkshake named after him, the Wacha Wacha. #WorldSeries #stlcards
-- Derrick Goold (@dgoold) October 23, 2013 Behold, the Wacha Wacha milkshake at Fozzie's Sandwich Emporium in Richmond Heights: https://t.co/MLMkHcgIdr #worldseries #cardinals
-- Derrick Goold (@dgoold) October 23, 2013 - Go behind the scenes with the Nebraska video department:
- It's a big weekend for brothers Geoff and Mitchell Schwartz, who will face each other on Sunday when the Browns play the Chiefs.
- Tracy McGrady said he feels bad for Kobe when Bryant returns to the court for the Lakers.
- A chain gang member during Tuesday's UL-Lafayette vs. Arkansas State game really got in the spirit of breast cancer awareness:
Chain guy (likely a local high school ref) with a pink beard. ht @bustedcoverage pic.twitter.com/SI0HU2FDi9
-- Cork Gaines (@CorkGaines) October 23, 2013 - This cricketer's girlfriend probably did not realize she was on TV when she pantomimed a lewd act in the stands:
- Via @CorkGaines , Adam Wainwright and Yadier Molina combined for a big ol' oopsie-daisy:
- A former Bucs player compared playing for Greg Schiano to being in Cuba .
- So how, exactly, did Kanye West rent out AT&T Park for his proposal to Kim Kardashian?
The original article can be found at FOXSports.com: Buzz: Lester called out for glove.