Buzz: Behind the 'N Sync TD dance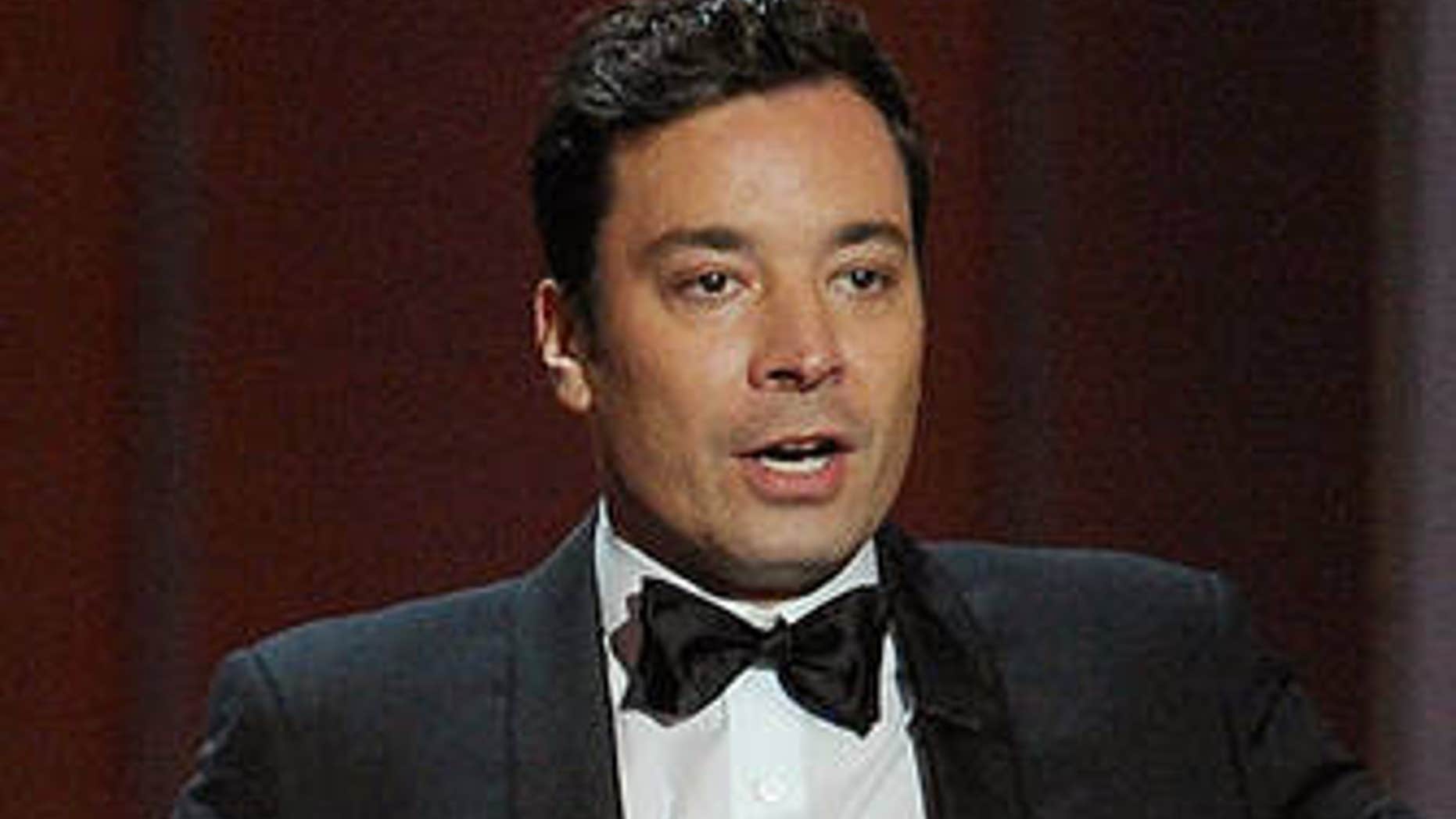 On Sunday, we brought to your attention Joseph Fauria's touchdown celebration, which channeled the 'N Sync classic, "Bye, Bye, Bye." In case you missed it, here's the dance again:
Anyway, turns out there was more to Fauria's dance than met the eye.
Apparently, the rookie tight end was inspired to do the dance by late night talk show host Jimmy Fallon, who offered a donation to any NFL player willing to use one of the dances he and Justin Timberlake performed in their viral "Evolution of End Zone Dancing" video.
"That's where I got it from," Fauria told ESPN.com . "And also being an 'N Sync fan for a long period of time. You know, when I had my bleached blond tips when I was 10, you know."
Knowing a $10,000 check for the Make A Wish Foundation was on the line, Fauria's foray into 'N Sync's dance catalog was likely an afterthought. And true to his word, Fallon responded Tuesday night with a donation to the charity:
. @BigJoeFauria tune in tonight. We're proud of you. #LateNight
-- jimmy fallon (@jimmyfallon) September 25, 2013 . @BigJoeFauria @jimmyfallon the moves DID change the world! Jimmy's donating $10,000 to the Make a Wish Foundation ( @MakeAWish ). Great job!
-- Late Night (@LateNightJimmy) September 25, 2013 "We were going nuts," Fallon said of Fauria's dance on the show. "We all saw it on Twitter. We were going crazy. ... Thank you, for dancing out there and making it fun."
So there you have it. Joseph Fauria is a great guy, Jimmy Fallon is an even better one and the Make A Wish Foundation is $10,000 richer for it.
Now, for some links:
• Pacers president Larry Bird believes his team can and will compete for a championship .
• Four San Antonio Spurs players took on a group of veterans in a game of wheelchair basketball.
• The Jaguars will give you free beer if you come watch them play:
#DrinksOnUs 3 hour ticket special tomorrow at http://t.co/XixPGtlDo1 starting at 9am. Bring your friends to the game – and get free beers!
-- Jacksonville Jaguars (@jaguars) September 26, 2013 • This guy:
No words pic.twitter.com/ulvJKEc3ym
-- San Francisco Giants (@SFGiants) September 26, 2013 • The NCAA ranked LSU's Tiger Stadium as the loudest in college football .
• Update: Brandon Jennings reportedly got punched in the face, but it wasn't The Game who did it .
• The Rockies mowed a giant No. 17 into the outfield grass for Todd Helton's final home game, then gave him a horse and took a sweet photo -- and he responded with a home run:
After a fresh cut from the best grounds crew in baseball, the outfield "17" really pops. #ThanksTodd pic.twitter.com/QCIhmdOyTd
-- Colorado Rockies (@Rockies) September 25, 2013 Meet the newest member of the Helton family, A Tru Bustamove. #ThanksTodd pic.twitter.com/fIWXUhaqia
-- Colorado Rockies (@Rockies) September 26, 2013 #ThanksTodd pic.twitter.com/KeuWzASE1x
-- Colorado Rockies (@Rockies) September 26, 2013 Your browser does not support iframes.
• We know Billy Hamilton is fast, but who is the slowest player in baseball ?
• Vin Scully does not want your free hugs , thank you.
• Kyrie Irving had a dance battle with a South African student during a stop on a UNICEF trip:
• Earlier this month, Chris Paul schooled a Chinese streetballer:
• WithLeather counts down the 23 worst things about the video for Miley Cyrus' new MJ ode, "23."
• Rod Marinelli has has an interesting nickname for one of his defensive linemen.
• Major League Baseball took out an ad in USA TODAY, the New York Daily News, the New York Post, and Metro New York honoring Mariano Rivera:
This ad will appear in multiple papers Thurs to honor Mariano Rivera: pic.twitter.com/cEofh7zPbg
-- MLB Public Relations (@MLB_PR) September 25, 2013 • Via The Big Lead , sometimes you just really misjudge a header:
• NC State will have more NFL starting quarterbacks this weekend than any other school in the country.
• The Arizona Diamondbacks set a record for extra innings in a season .
• Iowa State's athletic director, who makes either $450,000 or $900,000 , depending on whom you believe, does not seem to be in favor of paying players:
Yet to hear one realistic plan how to pay players without eliminating all other sports. Value of Education versus Arena FB or D League.
-- Jamie Pollard (@IASTATEAD) September 25, 2013 Ask a student body member with thousands of dollars of debt at graduation how they feel about a student-athlete saying they should be paid?
-- Jamie Pollard (@IASTATEAD) September 25, 2013 Athletic scholarships provide Accessibility and Affordability, two of our nation's biggest challenges facing higher education. #education
-- Jamie Pollard (@IASTATEAD) September 25, 2013 Only one that is going to be paid from "pay for play" are the lawyers. Time for silent majority to stand up and value education!
-- Jamie Pollard (@IASTATEAD) September 25, 2013 • The Tampa Bay Rays' owner says the team's poor attendance will affect its payroll going forward.
• Would you tailgate before a hockey game ?
• A guy hit 27 NBA-range 3-pointers in one minute:
• Gilbert Arenas says he's not training with the Clippers, but rather, playing in China next season:
• Florida Panthers forward Kris Versteeg is ready to play just six months after ACL surgery.
• David Clarkson spoke out about his 10-game suspension for jumping over the boards to join a fight.
• The Braves would prefer you not gawk at your home runs after you hit them:
Your browser does not support iframes.
• Via HBT , this was a terrible, horrible, no-good, very bad call:
• Andre Agassi said Roger Federer is a class above Pete Sampras , and that Rafael Nadal can make a case as the best ever.
• The rumors are true: New York will be hosting the 2015 NBA All-Star weekend .
• The announcement was enough to get James Dolan talking, which is an accomplishment in and of itself:
Historic moment just now: Dolan answered a question from @NYPost_Berman . First time he's taken a question from a Knicks beat since 2007.
-- Howard Beck (@HowardBeck) September 25, 2013 • And finally, Steven Spielberg with an awesome zinger on USC fans:
Steven Spielberg was at #USC today. He was asked his favorite disaster movie and said, ``The Washington State game.''
-- InsideUSC (@InsideUSC) September 26, 2013