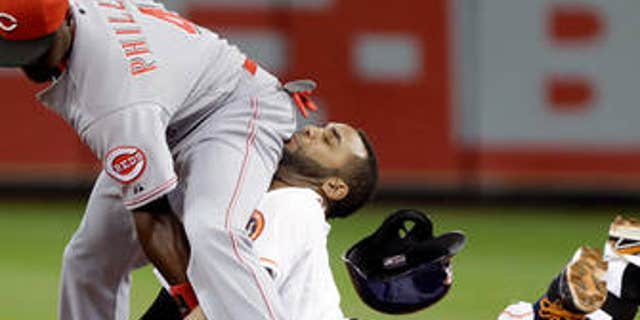 You think Mark Sanchez's butt-fumble was funny?
Well, you have to check out Jonathan Villar's slide into Cincinnati second baseman Brandon Phillips on Tuesday night in Houston. (H/T: SB Nation)
The play occurred in the first inning as the Astros leadoff hitter singled, but was thrown out trying to stretch it into a double.
"That's the way I play," Villar told The Associated Press. "I'm aggressive. I was trying to make something happen, motivate my team. It's hard to change because that's the way I've always played."
At first, Phillips wasn't aware Villar was running towards second and the Reds All-Star said in no way was he trying to showboat.
"The crowd let me know that he was coming to second base," Phillips told The AP. "I just had to quickly put the tag between my legs. That's the only reason I tagged him. If I didn't hear the crowd, I would have just caught it and looked around and he would have been safe."
Since Phillips ( @DatDudeBP ) is well known for being an active Twitter user, you just knew he was going to weigh in after the game.
#RealTalk ... Normally after a W, I'm feeling great! But after what happen to me during the game, all I can say is, THATðŸ'©WAS FUNNY! #ButtTag
-- Brandon Phillips (@DatDudeBP) September 18, 2013 Tampa Bay Rays ace David Price loved it.
hahaha @DatDudeBP is something else!!! 😂😂😂😂
-- David Price (@DAVIDprice14) September 18, 2013 Which brought a response from Phillips.
Yep, you know me LMAO!!! I'm clownin' like always RT @DAVIDprice14 : hahaha @DatDudeBP is something else!!! 😂😂😂😂
-- Brandon Phillips (@DatDudeBP) September 18, 2013 Meanwhile in Washington, Atlanta Braves second baseman Dan Uggla had an adventure in the outfield.
On a play in the third inning, the Nationals' Denard Span nearly hits into a double play, but a bad throw to first has Span rounding the bases. When Uggla drops the ball trying to throw it back to the infield, Span takes off for home. Watch to see how it ends.
Your browser does not support iframes.
But back to the butt-fumble ... just in case you wanted to see it one more time, here you go: