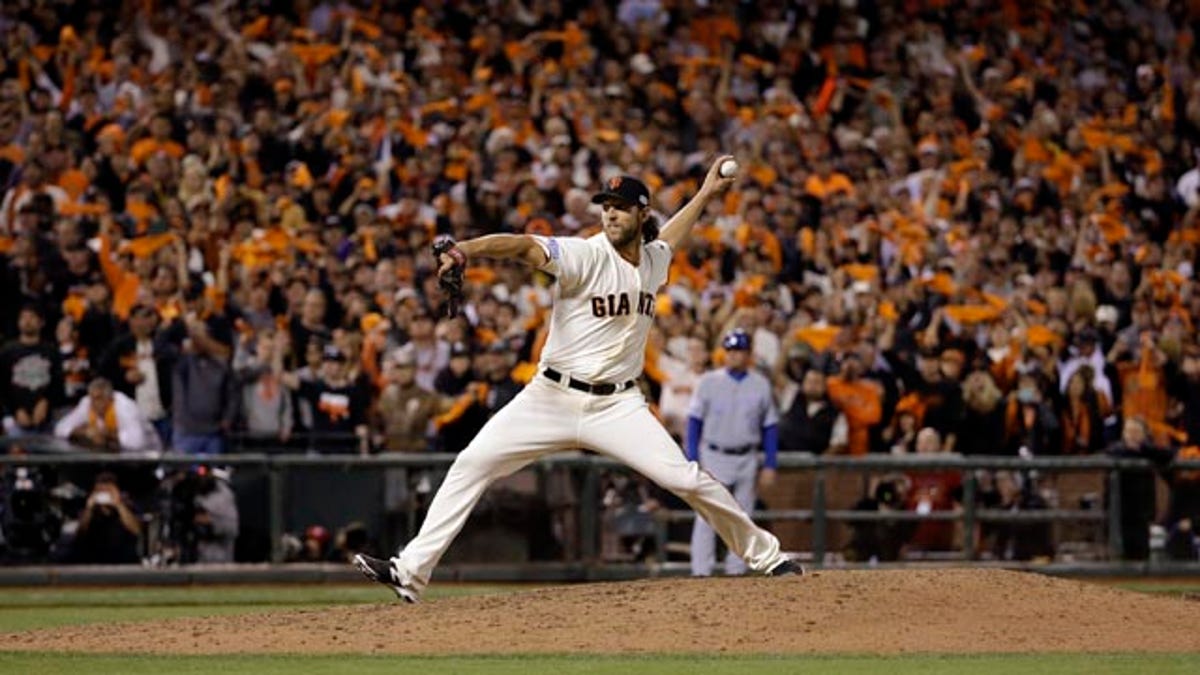 SAN FRANCISCO – Madison Bumgarner barely broke a smile walking around the San Francisco Giants' clubhouse late Sunday night following a brilliant pitching performance that has his team one win from another World Series title.
After the way this October has played out, who can blame him?
The Giants will try to close out the Royals and claim their third championship in five years Tuesday night when this wild-card series shifts back to baseball's most unlikely postseason destination: Kansas City.
"We know it's not over until you get that fourth game. These guys aren't going to change," said Giants manager Bruce Bochy, whose club leads the best-of-seven series 3-2.
Perhaps it's only fitting this Fall Classic ends at Kauffman Stadium, a place hosting playoff baseball for the first time in 29 years. The Royals started this pulsating postseason with a 9-8 comeback win in 12 innings over Oakland in the AL wild-card game, which began on the last day of September and ended near midnight.
That captivating night in Kansas City set the stage for a month to remember: tight games and dramatic finishes, favorites falling and underdogs overachieving, stars slipping and new ones shining.
What happens next is anybody's guess. After all, the last time Game 6 of the Fall Classic came to Kansas City, one of the most surreal scenes in baseball history unfolded: first base umpire Don Denkinger's botched call serving as the signature moment of the 1985 World Series won by the Royals over St. Louis.
"We know we can do it," Royals first baseman Eric Hosmer said. "We're a confident group. But we can't do anything without winning Game 6. We're excited to get back home where we feed off the fans and that energy."
Jake Peavy starts for San Francisco and Yordano Ventura goes for the Royals -- a surprising matchup at this stage of October in most years, just not this one.
The majors' most notable names during the regular season -- Dodgers ace Clayton Kershaw and Angels slugger Mike Trout -- flamed out fast in the Division Series. A trio of Cy Young winners didn't do enough for Detroit. Injuries slowed down former triple crown winner Miguel Cabrera and Cardinals ace Adam Wainwright.
Even playoff-proven starter Jon Lester looked lost under October's bright lights for the one-and-done Athletics, and up-and-coming starter Stephen Strasburg showed he still has to polish his postseason poise for the Nationals.
Instead, these playoffs bred a new batch of baseball darlings: Lorenzo Cain and the running Royals, starter-turned-reliever Yusmeiro Petit and a pair of blazing bullpens that no longer overlooked in the World Series.
Of course, no star has burned brighter than a 25-year-old lefty from North Carolina teammates call "MadBum."
Bumgarner's winning performances in Game 1 and Game 5 -- not to mention in every previous round of the playoffs -- has put San Francisco one win away from for another parade down Market Street, something Willie Mays, Barry Bonds and generations of Giants fans had dreamed of for so long.
Now it's becoming an every-other-year tradition.
"It's not going to be easy at all," Giants first baseman Brandon Belt said. "It matters that we know that, and I think everybody on this team knows that. We're going to go out there and we're not going to let up. We can't, because if we do they're going to take advantage of it."
Royals rookie Brandon Finnegan might understand the topsy-turvy nature of these playoffs better than anyone.
Only four months after he pitched in the College World Series, the 21-year-old reliever got two key outs in the seventh inning to help Kansas City win Game 3. A night later, Finnegan failed to bridge the gap to the back end of the bullpen, allowing five runs in Kansas City's 11-4 loss to San Francisco.
"Baseball can pick you up quickly," Finnegan said, "and hit you in the gut quickly."
Sometimes longer and harder than others.
The Giants' latest improbable postseason run was propelled by the longest game in playoff history, a 2-1 win in 18 innings over the Nationals in Game 2 of the NL Division Series. Travis Ishikawa, a journeyman and first baseman converted to a left fielder in San Francisco, hit a three-run shot off St. Louis' Michael Wacha in the Game 5 clincher of the NL Championship Series.
It was the first homer to send the Giants to the World Series since perhaps the most famous drive in baseball history -- Bobby Thomson's "Shot Heard `Round the World" in a 1951 playoff against the Dodgers.
The showings in this fall will surely earn some a big payday come winter. Royals right-hander James Shields and San Francisco's slugging third baseman Pablo Sandoval are among those headed for free agency.
For now those transactions are on hold. One, maybe two, of the season's biggest games await.
"The place is going to be absolutely crazy," Royals manager Ned Yost said. "We feel good about our matchups. We've got to walk the tightrope now without a net, but our guys aren't afraid of walking the tightrope without a net. We fall off and we're dead. But we win Tuesday, nobody's got a net. It's going to be winner-take-all."