Bulls' Fred Hoiberg walks out of postgame presser after Isaiah Thomas question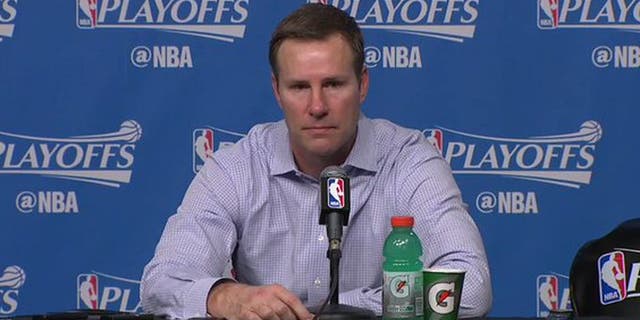 NEWYou can now listen to Fox News articles!
Chicago Bulls head coach Fred Hoiberg might regret his comments about Boston's Isaiah Thomas.
Following Chicago's Game 4 loss to the Celtics on Sunday, Hoiberg told reporters it's hard to stop Thomas when he's allowed to discontinue his dribble and carry the ball on his drives to the basket ( via Mass Live):
"Let me say this: Isaiah Thomas is a helluva player. An unbelievable competitor. He's a warrior everything he's going through right now, he had a helluva game tonight," Hoiberg said. "But when you're allowed to discontinue your dribble on every possession, he is impossible to guard. He's impossible to guard. When you're able to put your hand underneath the ball, and take two or three steps and put it back down, it's impossible to guard him in those situations."
Hoiberg was booed for his perspectiveprior to Game 5 in Boston, and his remarks came up again in the postgame press conference. The Bulls coach answered a few questions before a reporter asked if Hoiberg saw Thomas carrying the ball on Wednesday night.
Hoiberg tersely replied "No" before quickly exiting the scene:
I can't really blame Hoiberg on this one. The question seemed designed to get a rise out of the second-year coach, so he removed himself from an awkward situation as quickly as possible. So what if he was a little bit angry?
In other Wednesday press conference news, Washington's John Wall came to his postgame interview wearing a cape after the Wizards beat the Atlanta Hawks 103-99 in Game 5:
And on Tuesday night, Los Angeles Clippers point guard Chris Paul was left shaking his head by a reporter asking whether Paul expected the Clippers to force a Game 7, because apparently we're just credentialing anyone with a pulse these days.
Anyway, it's good to know the postgame festivities will continue to amaze even though Russell Westbrook is no longer in the NBA playoffs.