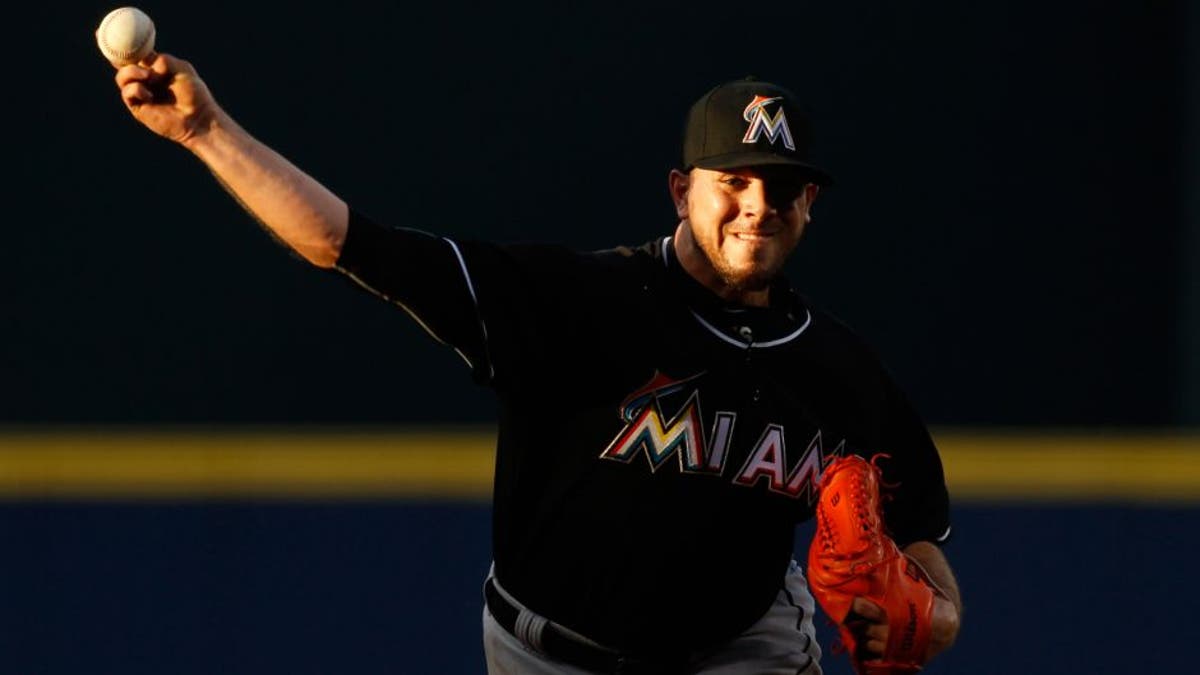 ATLANTA (AP) -- Nick Markakis had three hits, including a tie-breaking two-run double in the seventh inning, and the Atlanta Braves beat the struggling Miami Marlins 6-3 on Friday night.
Markakis extended his hitting streak to 14 games, finishing 3 for 4 with a run scored and two RBIs as the Braves erased a 3-2 deficit in the seventh to win for the fourth time in six games.
Ross Detwiler (1-5) earned the win by getting one out after coming in for starter Julio Teheran with two outs in the seventh. Arodys Vizcaino picked up his second career save with a scoreless ninth inning.
Teheran gave up three runs and six hits with one walk and three strikeouts in 6 2-3 innings.
The Marlins have lost five straight and are 5-16 since the All-Star break.
Rookie Kendry Flores (0-1) took the loss in relief of Jose Fernandez, who remained unbeaten in six starts since returning from Tommy John surgery. Fernandez gave up two runs, four hits and a walk while striking out six in five innings. He was removed after 76 pitches. In his previous start, he threw 112.
The Braves tied the game 3-3 in the seventh after a replay review reversed an out call at home plate. With the bases loaded, Daniel Castro hit a ground ball to third. Todd Cunningham slid past Marlins catcher Jeff Mathis, who took his foot off home plate before he caught the ball and failed to tag Cunningham. With the bases still loaded, Markakis laced a single to center field, knocking in two runs to give the Braves a 5-3 lead.
Dee Gordon had given the Marlins a 3-2 lead in the top of the seventh when he beat out an infield single with two outs. Gordon grounded the ball to first baseman Joey Terdoslavich, then outraced Detwiler to the bag. The play allowed Adeiny Hechavarria to score from third. Hechavarria tripled to knock in two runs earlier in the inning.
The Braves broke through against Fernandez in the fourth, ending a 20-inning scoreless streak against the Marlins ace. After a walk to Castro, the Braves had four consecutive singles to build a 2-0 lead. Markakis, A.J. Pierzynski, Cameron Maybin and Terdoslavich all touched Fernandez, who was able to strand the bases loaded.
TRAINER'S ROOM
Marlins: Rookie RHP Jose Urena (left knee contusion) and reliever Andre Rienzo (left knee laceration) were placed on the 15-day DL. The Marlins called up Flores from Triple-A New Orleans and Kyle Barraclough from Double-A Jacksonville. C J.T. Realmuto missed his third straight game with a sore left hand.
Braves: SS Andrelton Simmons (sprained right thumb) took batting practice for the first time since getting hurt on Aug. 2. The Braves are hoping he can return as soon as Saturday.
UP NEXT
Marlins: Tom Koehler (8-8, 3.71) will look to up his team-leading win total in the third game of a four-game series. He is 1-1 with a 2.51 ERA in three games against the Braves this season.
Braves: Newly acquired OFs Michael Bourn and Nick Swisher are expected to be in the starting lineup for the Braves. Rookie Mike Foltyneiwicz (3-3, 5.40) will make his 11th career start and first against the Marlins. The Braves are 2-5 in his last seven starts.