Buffalo's Miller an unexpected scratch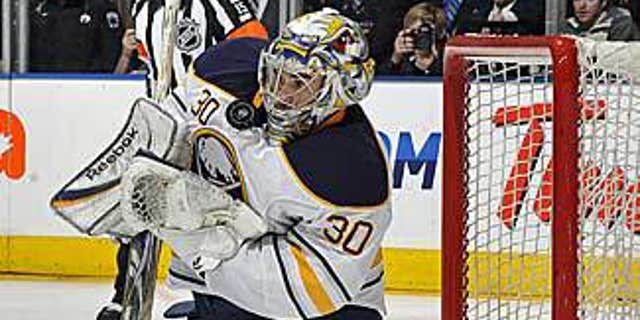 The Buffalo Sabres will be without franchise goaltender Ryan Miller night for Wednesday night's critical showdown with the New York Rangers.
Miller, the 2010 Vezina Trophy winner, will not play because of what Versus says is an upper-body injury. Miller did not take part in the morning skate at HSBC Arena, but Mike Harrington of the Buffalo News said the skate was optional and deemed Miller's absence "not unusual."
Miller took a slap shot from Dion Phaneuf to the collarbone area early in the third period of Tuesday night's 4-3 loss at Toronto. He also took a Brian Rolston slapper square on the mask in the first period of Saturday's 2-0 win against New Jersey.
Jhonas Enroth is expected to start for the Sabres. He is 5-2-1 this season with a .906 save percentage and a 2.78 goals against average. He has won each of his past three starts -- his only three appearances since Nov. 24. Enroth was the losing goalie when the Rangers beat the Sabres 3-2 in overtime at Madison Square Garden on Nov, 11.
Patrick Lalime, who has not started since Nov. 20 but made two relief appearances since then, is expected to back up Enroth.
Miller is 34-22-8 for the Sabres this season with a .915 save percentage and a 2.60 goals against average. He has started Buffalo's last seven games, and all but three of the team's contests since Nov. 24.
He won the Vezina Trophy last season with 41 wins, a .929 save percentage and a 2.22 goals against average. Miller was also named the top goaltender at the 2010 Winter Olympics as he helped the United States to a silver medal.
The Sabres are currently in eighth place in the Eastern Conference, but would move past the Rangers into seventh with a regulation victory.