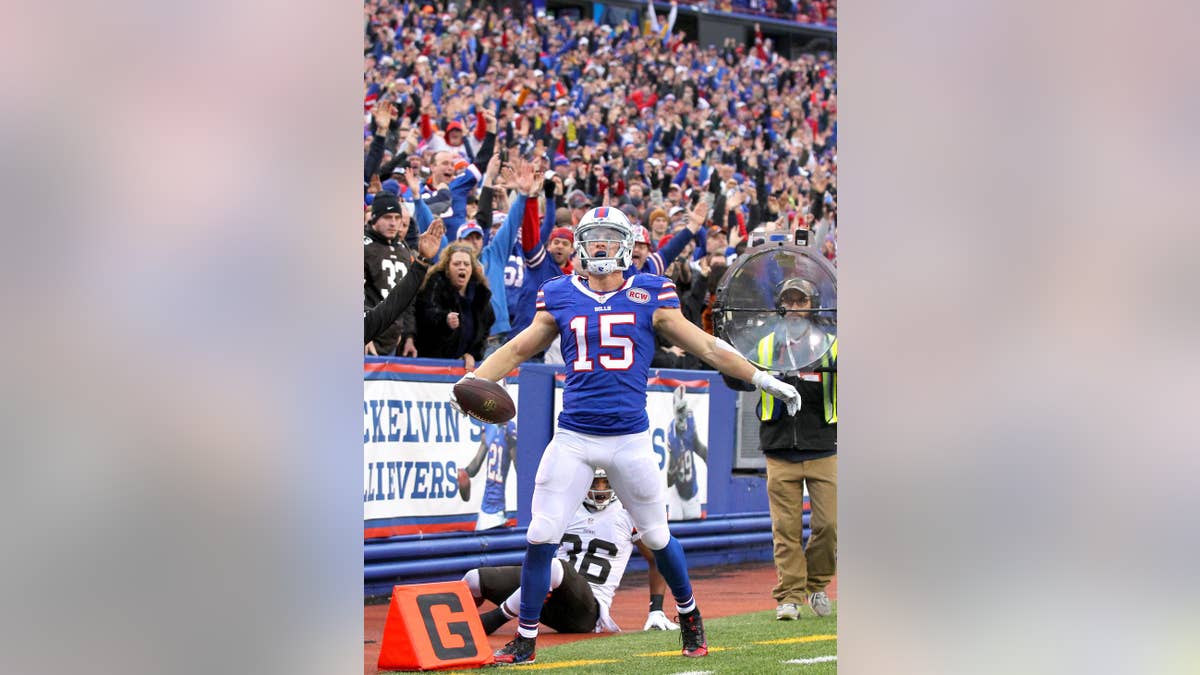 ORCHARD PARK, N.Y. – Bills rookie receiver Sammy Watkins is confident Buffalo's stingy defense can contain Peyton Manning and the highly potent Denver Broncos.
It's up to him and the Bills' offense to carry its fair share of the load Sunday.
"We look like a complete team when we take the burden off of them," Watkins said this week. "The defense has been holding up the whole year. Now it's time to come together as an offense and help those guys out. And I think if we can put up 28, 35 points a game, it's going to be hard to beat us."
That has been easier said than done as Buffalo (7-5) attempts to stay in the thick of a jumbled AFC playoff picture in preparing to play at Denver (9-3).
While the defense ranks as one of the NFL's best units, the offense has struggled with consistency, and faces the daunting prospect of having to keep pace with the Broncos.
Offensive coordinator Nathaniel Hackett is more concerned about the Broncos' defense than about Manning.
"Peyton's an amazing player," Hackett said. "For me, it's about offense versus their defense, and it's about what we can do well to be able to put points on the board versus their defense no matter who their quarterback is."
Putting up points has been an issue for Buffalo, which has topped 30 just twice this season. Both were against the New York Jets in games Buffalo's defense combined to force seven turnovers and had 11 sacks. Special teams also contributed by recovering a blocked punt for a touchdown.
Red-zone production has been the Bills' biggest deficiency. Buffalo has 18 touchdowns and 19 field goals in 44 trips inside an opponent's 20. That translates into a 41 percent red-zone touchdown rate ,which ranks 30th in the NFL.
And don't expect Buffalo to succeed at playing "keep-away" from Manning by chewing up the game clock. Hackett acknowledged that ball control is not among the Bills' strengths.
"We need to score points and be efficient," Hackett said, when asked about a ball-control approach. "When you look at things and try to change your way because of that, sometimes it messes you up more than it helps you. So I think it's about doing what we do."
The Bills have struggled generating first downs. They've topped 20 only three times, with a season-high 22 coming in a 17-16 win over Minnesota on Oct. 19. As for time of possession, Buffalo's season-best was a 4-plus minute edge in a 17-14 win over Detroit on Oct. 5.
The numbers reflect how the offense remains a work in progress due to injuries, youth at several positions and a switch at quarterback. Kyle Orton took over after EJ Manuel was benched following a 2-2 start.
Buffalo's running attack has been pedestrian, averaging 90 yards per game since racking up 193 in a season-opening 23-20 overtime win at Chicago.
And the passing numbers are slipping now that opponents have begun keying on Watkins.
At midseason, the first-round draft pick was a leading offensive rookie of the year contender with 39 catches for 595 yards and five touchdowns. In his past four games, Watkins has 12 catches for 105 yards and no scores.
"I've got to play better. I've got to be more physical. I've got to dominate my opponent," Watkins said.
Aside from defensive double teams, coach Doug Marrone said there's a combination of factors, including pass protection and play design, that have led to the drop in Watkins' numbers.
Asked if another issue is Watkins hitting a rookie wall, Marrone paused, and said: "I hope not."
___
AP NFL website: www.pro32.ap.org and www.twitter.com/AP_NFL