Buffalo Bills player Taiwan Jones left bloodied after gruesome tackle
Buffalo Bills running back Taiwan Jones suffered a gruesome head injury during the team's 31-20 loss to the Los Angeles Chargers on Sunday.
Jones, 30, recovered a fumble in his team's own end zone and, while he was attempting to scramble away from Chargers players, lost his helmet and was blasted head-on by Uchenna Nwosa.
Jones laid on the field motionless for a bit before clutching his head in agony. When trainers were able to get him up, he was sporting a bloodied headband.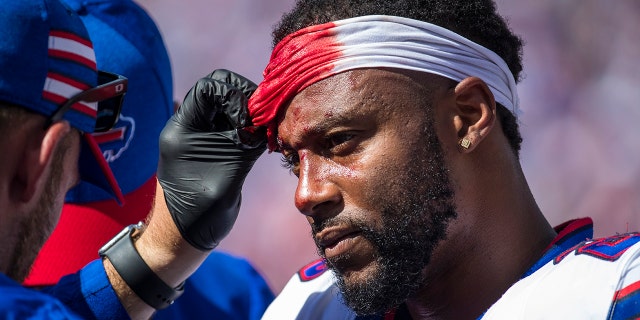 He walked off the field under his own power and went to the locker room, but didn't return to the game.
Marcus Murphy, who muffed the punt Jones picked up, called the play "crazy," according to NewYorkUpstate.com.
"That was crazy. You never want to see someone get injured and that was one of the craziest injuries I've seen," Murphy told reporters. "You never want to see a guy go down like that, especially one of my running backs. I hope he's great. I'll be reaching out to him to make sure everything is good."
Bills head coach Sean McDermott didn't provide an update on Jones after the game.
"As you guys saw, I believe he had his helmet knocked off there and then he took a hit. He took a blow," McDermott said. "God, you hate to see that, whether it's on our team or their team. Those are scary."
Jones is in his second season with the Bills after spending six seasons with the Oakland Raiders.