Buffalo Bills fans launch GoFundMe to get QB Nathan Peterman to retire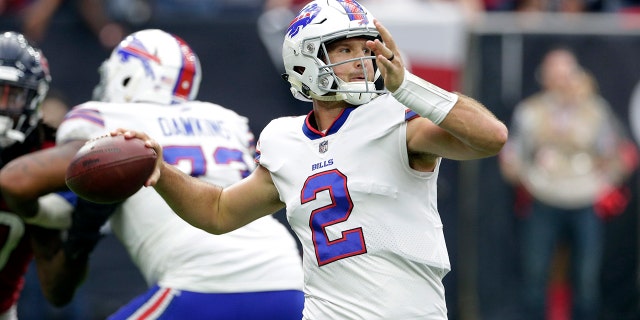 Exasperated Buffalo Bills fans, fed up with Nathan Peterman's performance on the field, launched a GoFundMe on Sunday in a bid to get the quarterback to retire from the NFL.
Peterman started Sunday against the Chicago Bears in place of the injured Derek Anderson, completing 31 passes for 188 yards, no touchdowns and three interceptions. It was a historic day, of sorts, as Peterman's completion mark set a record for the fewest passing yards while tallying more than 30 completions, according to Bills-centric blog Buffalo Rumblings.
"Nathan Peterman, we understand your passion to play football and especially in the NFL. But please for the love of God retire and leave and never come back," the GoFundMe description read.
"WE WILL GIVE YOU MONEY, JUST LEAVE!"
The fundraiser hoped to garner as much as $1 million to give to the former Pittsburgh University athlete. As of Thursday morning, however, the group had raised just over $200, with increments of $5 being donated.
The person who started the fundraiser also wrote in the description that, if Peterman doesn't accept the money, it would go to a charity instead.
Peterman is in the second year of a rookie contract. He is owed $1.38 million during the next two years, according to Sports Illustrated. The horrid start to his professional career has incensed many Bills fans.
Through eight regular-season games, Peterman has a 52 percent completion percentage, making 130 attempts. He's thrown 12 interceptions and only three touchdowns.