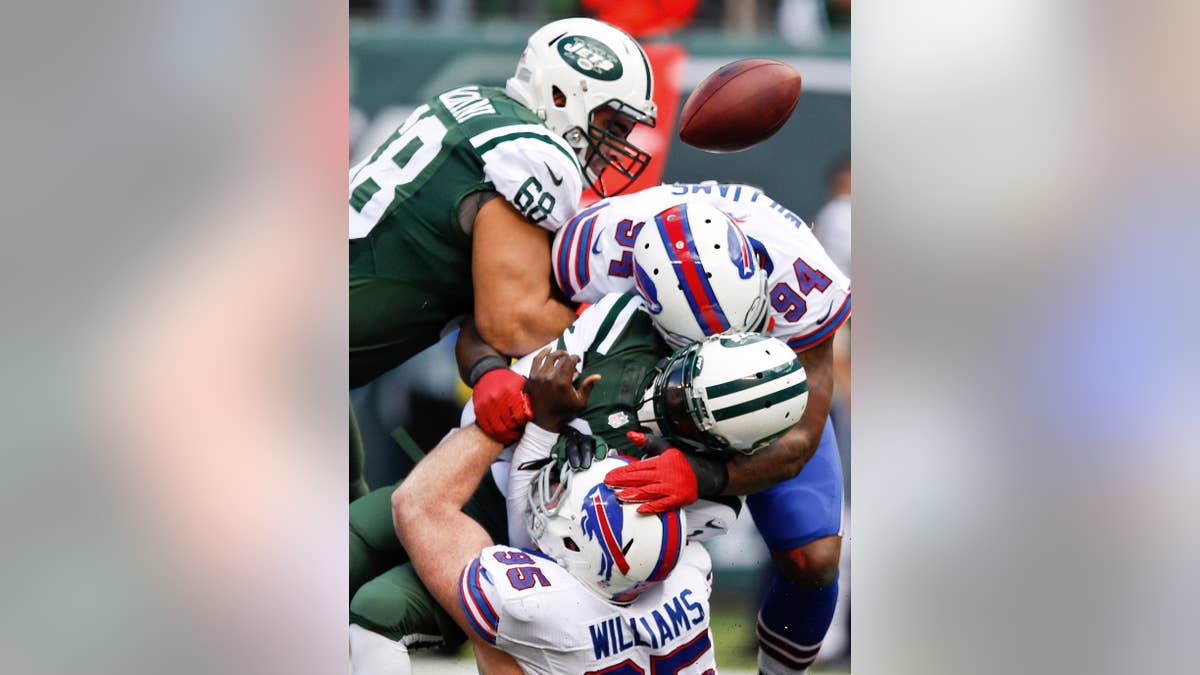 ORCHARD PARK, N.Y. – Bills rookie receiver Sammy Watkins learned a valuable lesson about celebrating too early.
"It was a boneheaded play," Watkins said Monday, a day after he pulled up early and raised his arm before being tackled from behind 5 yards short of the end zone. "Next time, I'll run full speed through the goal and score."
The play, in Buffalo's otherwise dominating 43-23 win over the New York Jets, might also serve as a cautionary reminder for the rest of the team entering its bye week off.
This is no time for the Bills (5-3) to let up.
Recent history has shown that promising starts haven't translated into strong finishes for a franchise whose 14-season playoff drought is the NFL's longest active streak.
Just ask defensive tackle Kyle Williams.
"I don't think that's lost on this team," Williams said. "I think that we have the leadership on this team that has been there, that has done that, and is going to kind of shepherd these young guys in knowing that we've got a long way to go yet."
Williams can vouch for that.
The nine-year veteran was a member of the previous two Buffalo teams had winning records at the midpoint of the season only to miss the playoffs.
It happened in 2011, when Buffalo started 5-3 and then lost seven of its last eight. It was hardly better in 2008, when Buffalo opened 5-3 and finished 7-9.
And it happened in the pre-Williams days in 2002, when Buffalo turned a 5-3 start into an 8-8 finish.
Overall, the Bills haven't had a winning record over their final eight games since closing the 2004 season 6-2. Otherwise, Buffalo's combined second-half season record over the past nine years is 25-47.
The Bills, who are off until hosting Kansas City (4-3) on Nov. 9, have a long way to go before they can start earning anyone's respect.
"The only way that you can earn respect or have teams fear you, is you have to go out and win," Williams said. "You can't rely especially on a 5-3 record."
The Bills find themselves in the AFC playoff picture because of an attacking-style defense that, through Sunday, was leading the league with 28 sacks and 18 takeaways, including a season-best six (four interceptions, two fumbles) against the Jets.
"The numbers don't lie, (but) we can be a lot better," safety Aaron Williams. "We're still not where we're at."
On offense, Buffalo has found a semblance of consistency and identity since veteran journeyman Kyle Orton took over the starting job after EJ Manuel was benched four weeks ago.
In going 3-1, Orton has provided a spark to what had been a popgun passing attack in four games under Manuel.
Orton has the edge on Manuel in yards passing (1,128-838), completion percentage (67-58) and touchdowns (9-5), while each has thrown three interceptions.
Orton has also had a flare for the dramatics by engineering last minute game-winning drives to beat Detroit 17-14 on Oct. 5, and Minnesota, 17-16 two weeks later.
"I think we've got a lot of faith in his ability," tight end Scott Chandler said of Orton. "Him coming in and taking the reins like he did, there wasn't anybody who doubted that he could get the job done. And we've been pretty happy with it so far."
There's still room for improvement.
Buffalo's running attack is slowed by injuries. C.J. Spiller (collarbone) isn't eligible to return until Week 16, while Fred Jackson is expected to miss three more weeks with a groin injury.
On defense, Buffalo has suddenly sprung leaks against the run.
After allowing just 405 yards and no touchdowns rushing in their first six games, the Bills have surrendered 333 yards and three scores in their past two.
"We're happy, but we're not satisfied," Aaron Williams said. "We know this record should have been a lot better than 5-3."
___
AP NFL website: www.pro32.ap.org and http://twitter.com/AP_NFL