Bud Black returns to San Diego as Rockies manager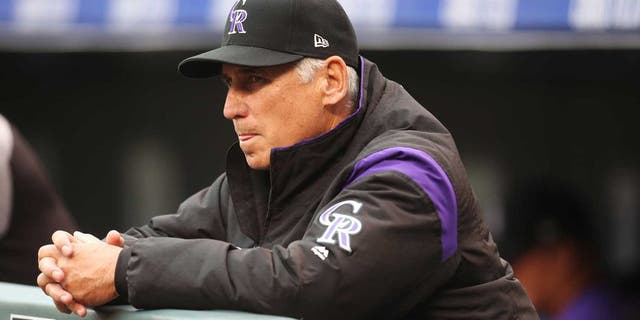 SAN DIEGO -- The Colorado Rockies will face the San Diego Padres on Tuesday to start a three-game series.
And yes, that face does look familiar.
Rockies manager Bud Black returns to his old San Diego haunts with a nifty view. He's pointed Colorado to first place in the National League West, and it's always nice to brag about success when seeing former friends.
Black, however, who managed the Padres from 2007-15, isn't one to toot his horn. But those playing taps on his managerial career were premature, as he's resurrected the Rockies after a year in the Angels' front office.
It's a big deal to return for Black, who maintains a home in nearby Rancho Santa Fe. His roots were deep in the San Diego community. They trace to his college days with a career, which put him in San Diego State's Aztec Athletic Hall of Fame, before he won 121 games in the majors as a left-handed pitcher.
"Nine years of managing in my hometown, where I live, where I went to college, brings a lot of great memories, a lot of great people," Black told mlb.com.
Black brings with him something he seldom possessed at Petco Park: a lineup opposing pitchers must tiptoe around. When Black was going 649-713 with the Padres, there was seldom any offense for which to speak.
Now he can't wait to fill out his card, and why not?
Trevor Cahill (1-2, 4.50) takes the challenge for the Padres to navigate an order which is long on power and powerfully lengthy. Cahill is 5-6 with a 4.44 ERA lifetime against the Rockies.
Cahill won his last decision against the Marlins on April 21. But he was uneven in his last start on Wednesday, allowing five runs in 5 2/3 innings versus the Giants. The right-hander did have a season-high nine strikeouts.
Tyler Chatwood (2-3, 4.88) gets the ball for the Rockies and he might rival Black in embracing a Petco Park start. The right-hander had two starts in San Diego last year and limited the Padres to one earned run in 14 2/3 innings, with 12 strikeouts. The Padres managed but eight hits and four walks.
Among Chatwood's tasks are figuring out Wil Myers. Not many rival pitchers did in the first month, when 16 of Myers' 35 hits went for extra-bases.
Myers gave the Padres a dramatic win over the San Francisco Giants on Sunday with a three-run, go-ahead homer in the 12th inning.
It came despite Myers scuffling in his first five plate appearances.
"For Wil, that's a huge step forward in that it wasn't a great day for him offensively," manager Andy Green told the San Diego Union-Tribune.
"He swung the ball well early, didn't have anything to show for it. He was walking through the day with an oh-fer, then steps up with a big swing late. That's a lot of maturity, and that's a great swing."
The Rockies will swing through town for their first visit, which makes their skipper as any other tourist.
"I'm looking forward to going back and seeing a lot of Padre employees that have been there a long time," said Black, the 2010 National League manager of the year with San Diego. "It's going to be cool to see some familiar faces."