Bucs won't shut down Cole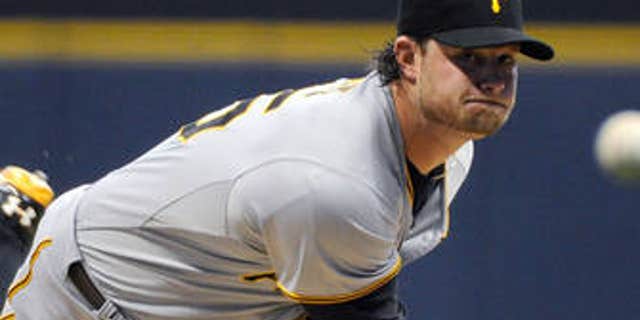 ARLINGTON, TEXAS – Gerrit Cole isn't going to get Strasburg-ed.
With the Pirates poised to reach the playoffs for the first time in 21 years, Pittsburgh fans can expect to see the team's star rookie in the postseason rotation.
After the Pirates completed a three-game sweep of the Texas Rangers with a 7-5 victory Wednesday afternoon, Pirates general manager Neal Huntington told FOX Sports that Cole is not expected to be shut down because of an innings limit and should be available to start for the duration of any postseason run.
"We've been asked before, 'Is he an option out of the bullpen?'" Huntington said. "If we (have) four starters who are better, then, sure, he can be an option out of the bullpen. But it wouldn't be a move to the bullpen because of pitches.
"Every one of our pitchers has a hard pitch count. But based on where he is right now and where we project him going forward, he should be available to us through the World Series as a starting pitcher."
Huntington didn't specify which pitchers would be in the Pirates' postseason rotation. (They have yet to clinch a playoff spot.) But it's becoming apparent that Cole is one of the team's top four starting pitchers -- and perhaps the No. 3 option, after veterans Francisco Liriano and A.J. Burnett. Cole has delivered five straight quality starts, including Monday's overpowering 1-0 victory against Texas ace Yu Darvish. Cole is 7-7 with a 3.48 ERA in 16 starts for the Pirates.
Huntington was quick to draw a distinction between the circumstances surrounding Cole and the Washington Nationals' controversial shutdown of Stephen Strasburg in 2012. Strasburg, now 25, was in his first full season after undergoing Tommy John surgery. Cole, 23, is not coming back from surgery.
Strasburg threw only 44 1/3 innings between the majors and minors in 2011, and the Nationals capped him at 159 1/3 innings last year. So the division-winning Nationals didn't have Strasburg on their postseason roster when they lost to St. Louis in the National League Division Series.
Cole, by comparison, threw 132 innings in the minor-league regular season last year and added to that total during the Pirates' instructional league. So, his effective workload might have been closer to 150 innings. Cole has thrown 166 1/3 innings between the majors and minors this year -- a much more gradual increase than what Strasburg experienced in 2012.
"They're night-and-day different," Huntington said. "You've got a pitcher coming back from injury that's coming off very few innings the year before. We've got a pitcher that's being built up. ... I'm not quite sure why they've been made an apples-to-apples comparison, because they're not. There's a huge difference between a pitcher recovering from injury and a young pitcher being built up."
In reference to Nationals general manager Mike Rizzo, Huntington said, "I don't want it to be about, 'We capitalized on it and Mike didn't.' They're night-and-day different. If Gerrit Cole were coming off Tommy John surgery, we'd have a different mindset. But we're building a young pitcher up as part of a normal progression, not as part of rehabilitation."
Huntington said the team's innings expectations for Cole would be "stretched" by extending his year into the postseason, but the GM added, "It would be comfortable."
Huntington praised manager Clint Hurdle and pitching coach Ray Searage for how closely they have supervised Cole's workload. Since debuting with the Pirates June 11, Cole has made nearly half of his subsequent starts -- seven of 15 -- on more than the customary four days of rest.
"Clint and Ray have done a great job of monitoring his pitches," Huntington said. "As a result, we feel like he's going to be available to do whatever we need come October."