Buck Showalter goes after Joe Girardi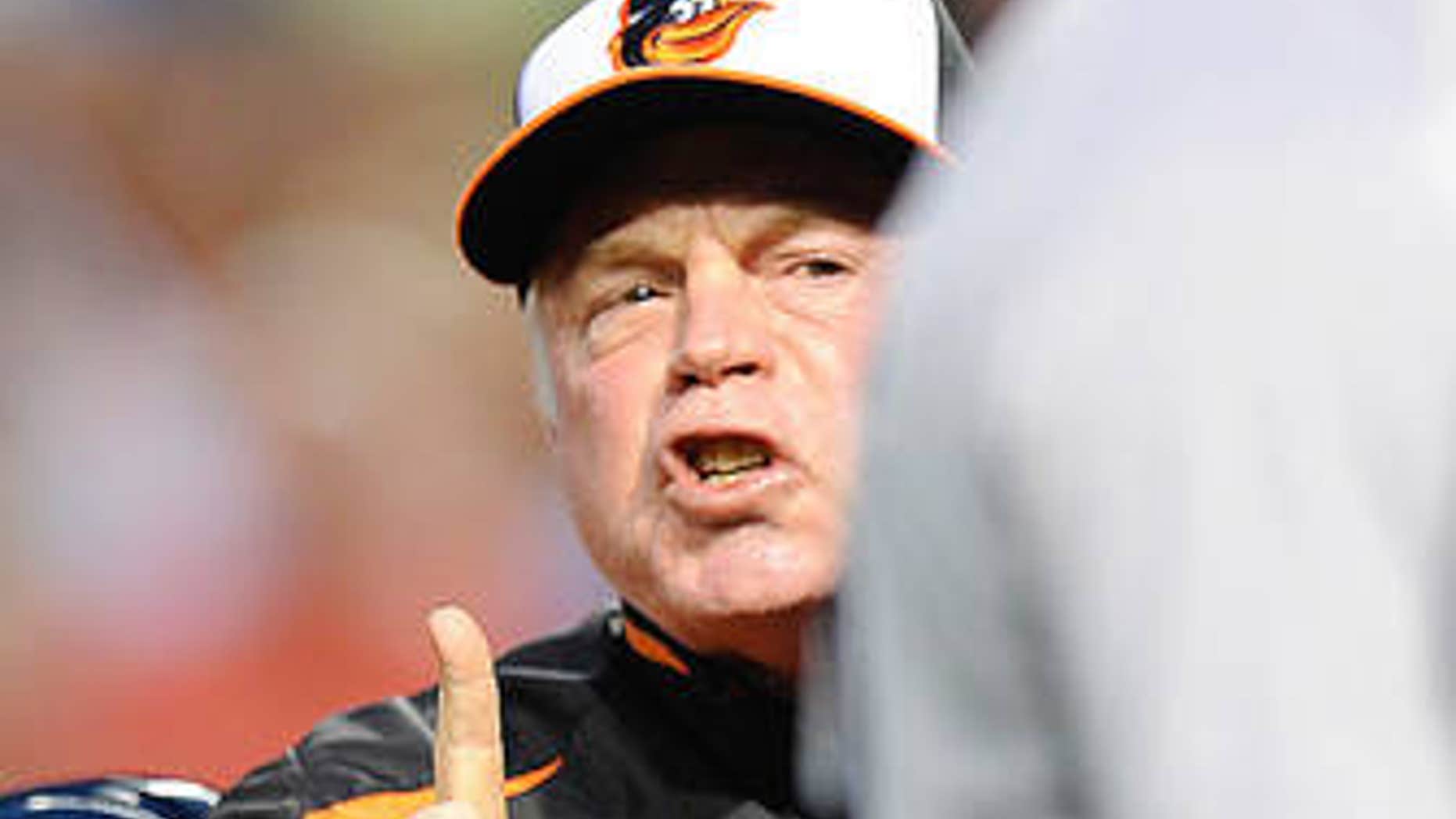 How well do you read lips? If you do, you're bound to catch some choice words from Monday night's confrontation between Baltimore Orioles manager Buck Showalter and his New York Yankees counterpart, Joe Girardi.
Showalter bolted out of the dugout after the first inning, screaming at Girardi: "That ain't right, Joe. That ain't right." Showalter also made several throat-slashing gestures. The umpires had to get between them.
Nobody cares because of football, but Buck Showalter just tried to fight Joe Girardi. Fun sports night!
-- Jimmy Traina (@JimmyTraina) September 9, 2013 What was the beef about? The Yankees thought Orioles third-base coach Bobby Dickerson was stealing signs, and Girardi and Dickerson had words.
Buck confirmed it was over accusation of sign stealing. Took exception to Dickerson being yelled at as well.
-- Brittany Ghiroli (@Britt_Ghiroli) September 10, 2013 Showalter was having none of that.
"He was yelling at the third-base coach. Somebody's wearing black and orange, I'm not going to let that happen," the O's manager said .
And by the way, Showalter denied Dickerson and the Orioles were stealing signs.
"If we were doing that, Manny (Machado) wouldn't have bunted, right, if we had the pitches," Showalter said.
For his part, Girardi wouldn't say a whole lot about the incident:
"The one thing that I've done, the whole time that I'm here, and everywhere I've been, is I'm going to protect our players at all lengths. That's what I'm going to do, and there was something that I saw and I'm just going to leave it at that."
There was a baseball game, too, a 4-2 Orioles victory that left Baltimore 1 ½ games out of the last American League wild-card spot and the Yankees three games back. The teams meet again Tuesday night in another tense playoff race game. No hard feelings?
"Joe's a good man," said Showalter, who expressed his respect for Girardi. Asked if the two would speak before Tuesday's game, Showalter said that's for him to know and you to find out. "Well, if I was going to, I wouldn't broadcast it in here (to the media)."
And to go back to that lip reading thing: Just be pretty sure you know what they're saying. It's not an exact science.
H/T MASN