Buccaneers OC admits he was 'dead wrong' about Jameis Winston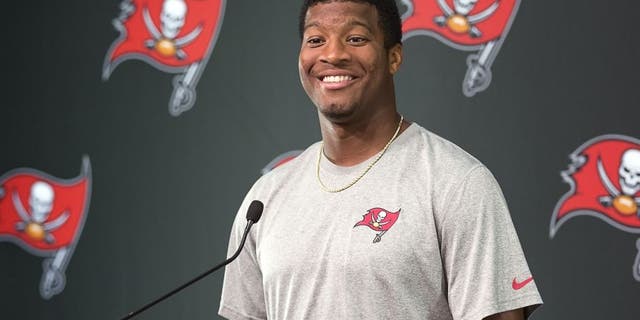 NEWYou can now listen to Fox News articles!
Jameis Winston has blossomed into a great young quarterback for the Tampa Bay Buccaneers. As a rookie, he made the Pro Bowl thanks to 4,042 yards and 22 touchdowns to go along with great leadership on the field. Maturity wasn't always a given for Winston, though.
He had several off-field question marks while at Florida State, including the time he was cited for shoplifting crab legs. Despite the issues, the Bucs took him first overall and haven't looked back since.
Offensive coordinator Todd Monken admits he had his doubts about Winston, however, and says he was "dead wrong" about him.
"It's who he is, how he's wired,'' Monken said, via the Tampa Bay Times. "I think that's one thing that's a misnomer. I think from the outside you would've looked at it with all the things that were publicized in the past about him and who he is. I was dead wrong. He wants to win as much as we do. He's a competitive joker, man, he's smart, he's intelligent ... you can win a lot of games with guys like that.''
It's reasonable to have had some doubt about Winston's maturity, but his competitiveness was never questioned. He was a vocal leader for the Seminoles and always showed that he knew how to win on the football field. And he's already brought that to the NFL with him.
But Monken was still hung up on Winston's perceived image.
"I think that's just general in life, especially with social media today, but even before then,'' Monken said. "Without knowing a person, we make judgments without ever being around them. I think that's just common, that's not just Jameis, that's people. You make thoughts, impressions when you meet someone on Facebook or Twitter or (Snapchat), you think you know them. You think you're a part of their life, you have no idea what they're like until you get around them and you're around them day to day and see what they're about. That's in terms of life, not just him.''
Not surprisingly, Monken has changed his view on Winston, and rightfully so. The quarterback has done nothing to spur any uncertainty since coming into the league as the top overall pick. He's showed maturity on the field and in the community, just as he promised after being taken by the Bucs. He figures to take a big step in his second year.