Buccaneers GM provides update on Doug Martin after rehab stint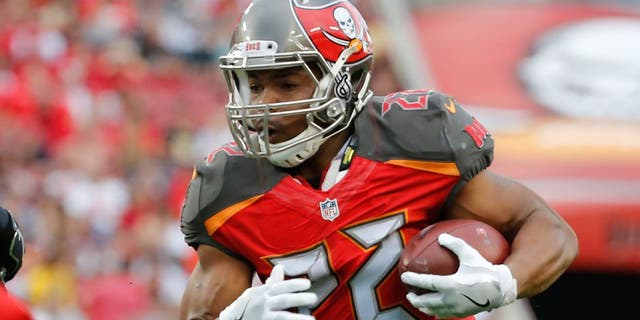 When the Tampa Bay Buccaneers signed Doug Martin to a $35.75 million contract last offseason, they figured to be set at running back for years to come. He was coming off a terrific 2015 season and looked to be one of the top young backs in the NFL.
Unfortunately, his 2016 season was a complete disaster. He rushed for just 421 yards on 144 carries, battling injuries and a leave from the team late in the year to enter rehab.
Martin is facing a three-game suspension to start the 2017 season, and his future remains up in the air. However, he reported to team workouts Monday, which is a good sign for both the Bucs and himself.
"[Coach] Dirk [Koetter] and I just very recently had a sitdown with him, a conversation with him," GM Jason Licht said. "He looks great. He looks, right now, as good as I've seen him since I've been here from a physical standpoint. Seemed to be in very good spirits. Excited to have him. Excited to see how he does out here in OTAs."
Icon Sportswire via Getty Images/Icon Sportswire (A Division of XML Team Solutions) All Rights Reserved contact: info@iconsportswire.com http://iconsportswire.c
Martin entered rehab after violating the leagues substance abuse policy, but hes since left the facility. As a result of the suspension, the Buccaneers could get out of his contract if they wanted to.
Rather than doing so, the team seems to be keeping him in its plans for 2017. The fact that Licht is looking forward to seeing Martin at OTAs later this month is telling of his opinion of Martin.
Obviously, theres no guarantee the Buccaneers will keep him, and their draft strategy at running back will a clear indication, but Martin appears to be relatively safe for now.
"Seems like everything, the trajectory is going up," Licht said. "We've got 10 days here before the draft. Can't answer all questions in 10 days but, like I said, it's just good to see him here. It's good to see that he's been working his butt off."
Martin has the potential to be a top-10 running back, rushing for 1,400 yards twice in his career, but his other three seasons have been abysmal. In those three years, hes totaled just 1,371 yards.