Bubba Watson's son gets drum lessons from Justin Bieber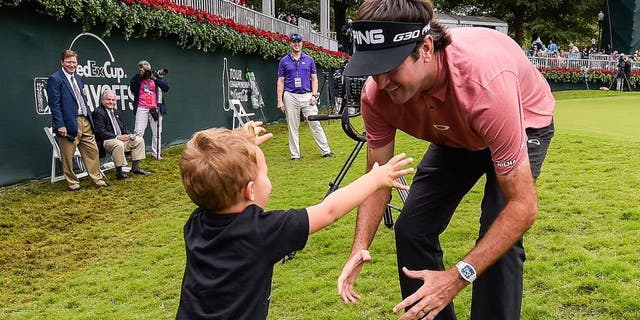 It may seem strange for a 21-year-old pop star and a 37-year-old PGA Tour player to be friends, but that seems to be where this relationship is headed -- if it's not there already.
Bubba Watson shared a photo on Wednesday night of his son Caleb getting drum lessons from none other than Justin Bieber. Watson is in Los Angeles for the Northern Trust Open at Riviera, so it only seems appropriate that he get together with the Biebs for a quick music session with Caleb.
When you're a tour player, you get to hang out with guys like Bieber. When you're a two-time Masters champion, you get guys like Bieber to teach your son to play the drums.
Caleb has had more luck working with Bieber than his dad has. Last year, Watson wanted Justin to join the Golf Boys, but it never came to fruition. Maybe Caleb can work his magic and make it happen.