Bryce Harper performs mildly insane squat atop exercise ball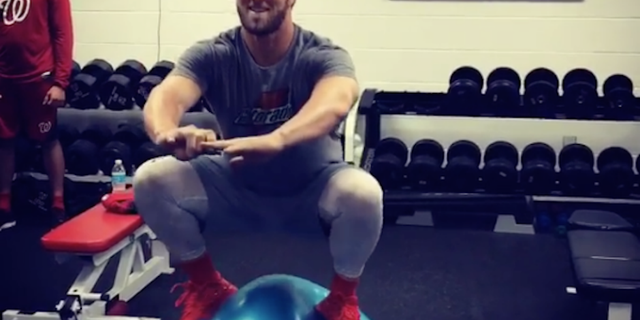 This short video showing Washington Nationals outfielder Bryce Harper's workout on Friday is majorly impressive, but also mildly insane.
Check out the 23-year-old grinding out at least three parallel squats on top of a large exercise ball:

That's not an easy exercise for even the most physically fit pros, which includes Harper. One wrong move and the reigning 2015 NL MVP could bang his shoulder, elbow or wrist against the floor, sending him to the DL for a month or several.

At the very least, Washington, get a spotter to stand directly behind the franchise player.
Of course, this is the same organization that saw Jonathan Papelbon choke Harper in the dugout last September -- and then take the mound the next inning.