Bryce Harper on potential $400-million deal: 'Don't sell me short'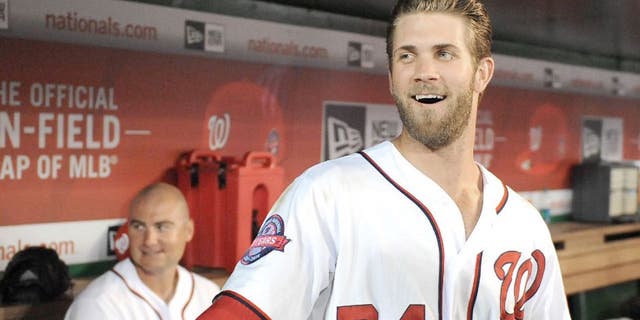 Washington Nationals slugger Bryce Harper won't be a free agent until after the 2016 season, yet speculation has already mounted as to the mammoth contract the reigning NL MVP will land.
Miami Marlins outfielder Giancarlo Stanton currently holds the largest contract in American sports history valued at $325 million over 13 years, but Harper is expected to eclipse that gargantuan sum in free agency.
Assuming the 23-year-old right fielder can sustain the high level of play he established in his MVP season last year -- in which he hit 42 home runs with 99 RBI and an outstanding .330/.460/.649 split -- analysts believe Harper will earn near $400 million in his new deal.
Some believe that he could fetch a contract worth a half-billion.
In an interview scheduled to air on Washington D.C.'s 106.7 The Fan at 11 a.m. ET on Friday, Harper is asked about potentially garnering a $400-million contract.
"Yeah, I mean I don't really think about that stuff. I just try to play the years out and do everything I can to help my team win," Harper says, per CBS DC. "But don't sell me short. That's what you're doing right now to me, so don't do that."
In print, the latter portion of Harper's comments could be interpreted as arrogant, but based upon his demeanor in prior interviews of this nature, it's very likely he is being sarcastic.
While he struggled to gain traction after a solid rookie year in 2012, Harper's monster MVP year corroborated the projections that classified him as a once-in-a-generation player.
With Rookie of the Year and MVP awards on his mantle at age 23, Harper's focus remains on the baseball diamond and not the swelling of his bank account in the near future.
"I'm looking forward to just playing this year, just looking forward to playing the next couple years," he says. "And I think all that stuff will play out."