Bryan Caraway explains why he deserves to fight Dominick Cruz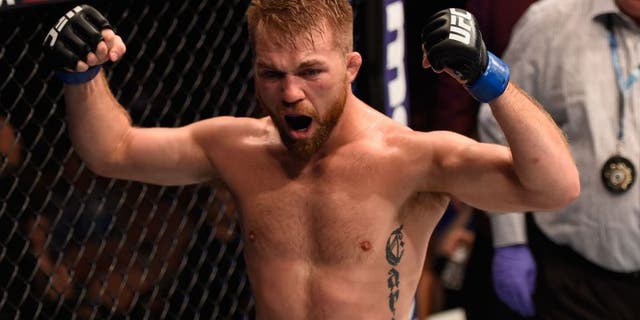 NEWYou can now listen to Fox News articles!
For months, Bryan Caraway heard about Aljamain Sterling's constant barbs aimed at him through social media or interviews while trying to land a fight with the former "Ultimate Fighter" season 14 competitor.
At one point, Sterling called Caraway "Mr. Tate" as a reference to the bantamweight's long-term relationship with UFC champion Miesha Tate.
When they finally met in late May, Caraway defeated Sterling. But as much as the victory was made a little sweeter thanks to his opponent's constant trash talk and taunting, he really didn't pay much attention to it in the first place.
"I want to put a message out there to all of these fighters in my division -- trying to bully me into a fight doesn't scare me," Caraway told FOX Sports on Monday. "I used to fight Vale Tudo, no holds barred, I'm not scared to fight anybody. If you're going to try to bully me or call me names, it doesn't work.
"I don't do social media, I don't care what you're saying. It doesn't bother me."
Trying to bully me into a fight, if anything, will get me to not to fight you. Just because you're an (expletive), I don't want to fight you because I don't want to give you an award for being a douche bag. -- Bryan Caraway
The only way Caraway heard about Sterling's words were second-hand. He admits it did make him relish the win a little bit more, but the fight was really about getting back in action and defeating a top-five opponent.
"Maybe it was a little more satisfying because he was talking so much crap and was so confident in himself. It feels good to get that win," Caraway said.
"He has to spend the rest of his summer knowing that he talked all of that crap and then he went out there and got out grappled, got beat up and lost the fight. Not only from a perspective that talk is cheap but I'd rather show the actions. It feels good."
In reality despite the win, Caraway was still critical of his performance, especially in the first round, when he got stuck on the mat with Sterling hanging off his back for the biggest part of the first five minutes.
The most important part was that Caraway still got the victory. Now he has his sights set on staying busy and hopefully fighting for the UFC bantamweight title by the end of the year.
"I want to fight for that world title. I want to fight Dominick Cruz. I feel like I've earned that," Caraway explained. "I've been in the sport for a long time. I was finishing a lot of guys. The last two were very, very tough guys. One was a former champion in Eddie Wineland and Aljamain Sterling was a super tough, up-and-coming young guy that was undefeated. I beat both those guys at their own game. If that doesn't show that I'm well-rounded, I don't know what else does.
"I beat the No. 6 guy in the world with striking when he's labeled as one of the best strikers in the division, and then I go out there and outwrestle and outgrapple the No. 4-ranked fighter in the world that's labeled 'the next best guy in the division', and he's supposed to be the best grappler and I outgrapple him. I think beating the No. 6 and the No. 4 guy should earn me that title shot. I'm willing to wait, I'm willing to do whatever to get that title shot."
In the wake of his last victory, Caraway has heard his name mentioned by a slew of fighters, most notably Cody Garbrandt, who knocked out Thomas Almeida on the same card where he beat Sterling.
Garbrandt has asked for a fight with Caraway at UFC 203 in Cleveland, but there's still no word about whether the matchup will come together. For his part, Caraway says he's more interested in a fight with Cruz, but he wants to make one thing crystal clear -- he hasn't turned down a fight with Garbrandt because it hasn't been offered.
I'm not turning down a fight. I was never offered a fight. Cody Garbrandt's not the matchmaker. I'm not the matchmaker. Sean Shelby and Joe Silva are the matchmakers of the UFC. -- Bryan Caraway
"Just because you want to go to Disneyland or you want this fairytale fight or I want this fight, it doesn't mean it's going to happen," Caraway said.
"It's an entertainment business, it's politics and there's a lot that goes into that. I'm making it clearly stated -- I haven't turned down a fight with anybody, I haven't been offered any fight. My job is the fight anybody in the world and I want to fight for the world title. That's what I want. If I get what I want, that's what I would get and what I feel like I deserve. I want to fight for the world title but I'm not turning down fights with anybody either."
Whether he gets his wish and fights Cruz later this year after healing up an ailing back injury or he's placed in a matchup against Garbrandt or another top bantamweight, Caraway just wants to prove that he's never going to be an easy mark.
He didn't get to No. 4 in the world by being a walkover fight and sooner or later, the rest of the bantamweight division will learn that.
"I know everybody's calling me out. I know everybody thinks for some reason because I'm dating Miesha (Tate) that I'm the easiest fight or whatever," Caraway said. "I may not be the craziest, flashiest fighter, but I'll keep proving guys wrong and make them regret their decision to fight me."