Bruton Smith back at track after battling non-Hodgkin's lymphoma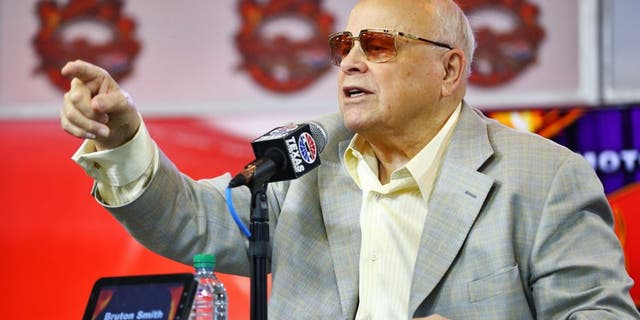 Speedway Motorsports Inc. executive chairman Bruton Smith revealed Friday that he was treated for non-Hodgkin's lymphoma in June and used this weekend's races at Bristol Motor Speedway as motivation during his recovery.
Smith arrived at Bristol on Wednesday for the Truck Series race -- his first since his diagnosis -- and will stay until Saturday night's Sprint Cup Series event. He missed a total of four race weekends at SMI properties while he was ill.
''I hate to miss any of our races, it's heartbreaking,'' Smith said in an interview with The Associated Press. ''I enjoy what I do. I love the automobile business, I like the racing business and I want to do more and more. That is the driver for me -- to just do more things. I just like what I do.''
The 88-year-old Smith was reluctant to discuss his health during the interview that lasted 30 minutes in a conference room in one of the Bristol towers. His son, Marcus, and longtime aide, Don Hawk, eventually explained his illness.
Smith was not feeling well in late May during races at Charlotte Motor Speedway, the cornerstone of his SMI empire, and was diagnosed with the cancer. He underwent surgery to treat it, and Smith said he did not require chemotherapy or radiation.
''He's been given a really good prognosis on his health, he's responded to the treatment really well and beyond the expectations,'' Marcus Smith said.
Smith said he lost 18 pounds during treatment, which included a hospital stay that was ''long enough to get accustomed to it and decide I didn't like it.''
Smith in February stepped down as chief executive officer of SMI, and later increased the voting power of his three sons in the company. He had controlled 70.2 percent of the voting stock before the move.
Smith, one of the founders of Charlotte Motor Speedway, was voted into the 2016 NASCAR Hall of Fame class in May. His SMI tracks host 13 of 38 Sprint Cup events annually.
The behind-the-scenes restructuring at SMI led to speculation about Smith's health, which is why he agreed Friday to reveal what he'd been through the last few months.
''I think I feel a lot better than some people thought I did,'' he said.
Smith let his son and Hawk discuss almost all of the details of his illness.
''He doesn't like to talk about health, he doesn't like to talk about death,'' Hawk said. ''He refuses to even say the word (cancer). In racing terms, he was several laps down. He's back on the lead lap now.''
His inner circle used a full-page newspaper advertisement for Saturday night's race at Bristol and a calendar to motivate Smith to use this weekend as his goal to get back to the track. In true Smith fashion, he promised Saturday night's crowd ''will be the biggest crowd at any Cup event you've seen all year.''
The restructuring at SMI has put Marcus Smith in charge of day-to-day activities, although Smith said he's still showing up for work at his office at Town and Country Ford in Charlotte, North Carolina.
''Marcus is doing such a fantastic job of running SMI that if I'm out, they don't miss me,'' Smith said. ''He's the man. He's the man.''