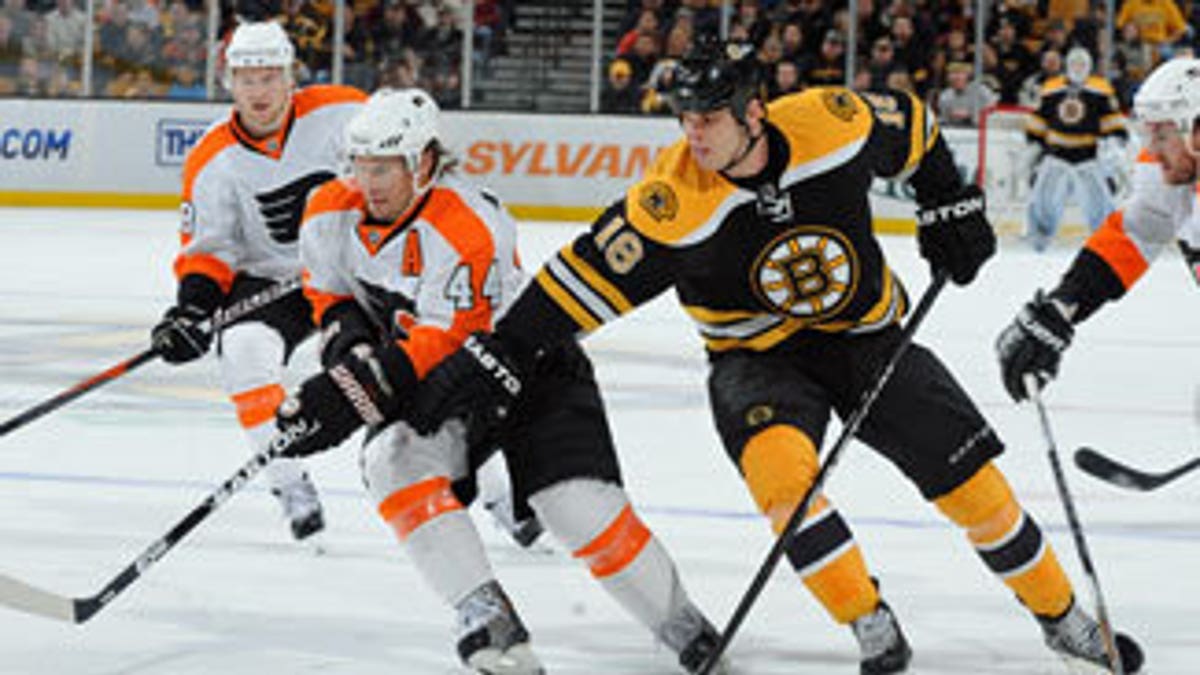 BOSTON – Boston goalie Tim Thomas didn't get the respite he wanted.
Minutes after he and his Bruins had slayed the Montreal Canadiens, an organization that has caused Boston more than its fair share of heartbreak, Thomas was already being asked about the next hurdle: the Philadelphia Flyers.
Last season, the Flyers erased a 0-3 deficit in the series and a 0-3 scoreline in Game 7 to defeat the Bruins and become just the third team in the history of the NHL to win a series after falling into a three-game hole.
Thomas remembers the pain too clearly – and he had no interest in letting such negativity ruin the elation brought on by Boston's 4-3 victory in overtime of Game 7 of the Eastern Conference Quarterfinals. A rematch with the Flyers, as far as he was concerned, could wait.
"No there hasn't been a changeover at least in my mind yet to preparing for that," Thomas said when asked about the second-round opponent. "I think a night like tonight, I deserve at least until midnight to revel in it."
Unfortunately, the storyline is too ripe to let it rest. The teams will open the best-of seven Eastern Conference Semifinals on Saturday afternoon at the Wells Fargo Center, and inquiring minds already want to know the Bruins' thoughts on the matchup and the idea that it might be the perfect opponent for Boston in the second round.
"For us or for you guys?" defenseman Andrew Ference said, surveying the reporters crowded around him. "We're not going to lie; it's a good opportunity for us to hopefully exorcise some demons."
Philadelphia advanced to this second-round matchup with some heroics of its own. Despite using all three goalies on its roster and missing defenseman Chris Pronger for the first five games of the series, the Flyers somehow found a way to erase a 3-2 series deficit and blow Buffalo out in Tuesday's deciding Game 7, winning 5-2.
"If anything I think it's going to make it interesting," Boston coach Claude Julien said. "I think a lot of people are going to be watching this to see how it develops and we're excited to have that opportunity."
While it is a great storyline that will carry the conversation about this series until Game 1 starts Saturday, most of the people in the Boston organization insisted that this is a different Bruins team. Most important, there are different players on this Bruins team. Boston also showed its character by erasing a 0-2 deficit in this series and not folding after giving up leads of 2-0 and 3-2 in Game 7 on Wednesday night.
That belief in a new-look Bruins went all the way to the top.
"I mean but this probably gives you guys more to write about I'm sure," team President Cam Neely said. "But as I said earlier, we don't have the same team as we did last year, and Philly doesn't have the exact same team either. But that's certainly going to be mentioned a lot and talked a lot about, but first and foremost we got to concern ourselves about how we play in that first game."
Boston has two days to prepare for the rematch. The B's hope to make the most of that preparation time, but also realize that Montreal might have provided them with the greatest preparation of all in this roller-coaster of a series.
"Right now, we know it's another great rivalry with us," Boston forward Mark Recchi said. "You know they have a great hockey team, and it's going to be another tough battle, I mean every night is going to be the same way as what we just finished playing.
"They just had a tough series with Buffalo and it's going to be the same type of thing, we are going to have to be ready. But right now I'm going to think about this one and enjoy it and think about Philly on Friday."