Bruins seek answer for power-play drought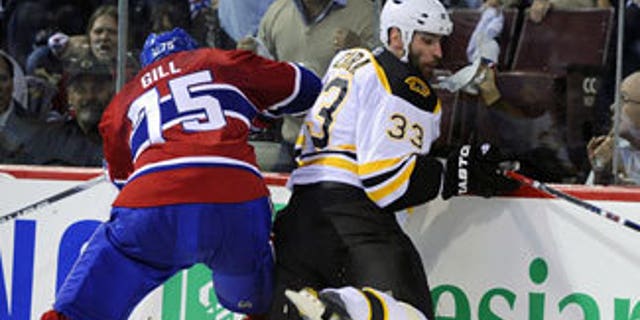 MONTREAL -- If Boston can't find some production from its power play soon, it may well face another Game 7 disappointment and another bitter end to its season.
Boston's power play went 0-for-4 Tuesday night in Game 6 of its Eastern Conference Quarterfinal series against Montreal. The Canadiens, meanwhile, scored a pair of 5-on-3 goals that proved to be the difference in a series-extending 2-1 win at Bell Centre.
Unbelievably, Boston is now 0-for-the-series, a stretch of power-play futility that stretches across 19 opportunities.
"Well, let's put it this way: Our power play is struggling," Boston coach Claude Julien said. "I think we've talked about that every day so far."
They will talk about it for at least one more day as the teams will play Game 7 Wednesday night (7 p.m. ET, Versus, CBC, RDS, NESN) for the right to advance to the second round.
"We've got to be a lot better," said Mark Recchi, one of the power-play regulars up front for Boston. "We're not getting any sustained pressure. We're getting one shot and it is getting blocked half the time. We're not getting pucks on net. It's a one and out kind of thing and you have to find your way back in.
"We just got to get better. We have to sustain some pressure and do some things. Our power play hasn't been bad all year, but it hasn't been good in this series and if we get the opportunity tomorrow, we have to step up.
"It's a big issue right now it's something where we have to bear down and find a way. They win the game because of that right now."
Everybody has opinions on what is wrong with the power play, but nobody from the Bruins has yet to find a solution despite a change in both lines and the attacking philosophy.
"I think it is a matter of trying to keep things simple and take what they are giving us." said Patrice Bergeron, one of Boston's most effective power-play performers. "I think we just need to have some presence in front and take some shots."
Part of the problem for Boston is that Montreal gives little to an offense, even when down a man. The Canadiens are schooled to clog the shooting lanes with their sticks and block anything that heads in the direction of goalie Carey Price. In the six games, Montreal has 126 blocked shots -- an average of 21 a game. On Tuesday night, the Canadiens blocked 27 shots.
"I think our penalty kill has been good all year, it's not sudden," Montreal coach Jacques Martin said. "I think they did a real good job during the regular season and usually regular season is preparation for the playoffs. People that do work on the penalty kill are very committed and play extremely well as a tandem and they do a great job."
Boston needs to find some answers and find them quickly if it hopes to advance in a series that has seen the majority of the games decided by the thinnest of margins. The past three games have all been one-goal decisions and two of them have gone into overtime.
The margin becomes even thinner in Game 7s and Boston is already facing a pretty grim history in recent Game 7 outings.
Boston has not won a Game 7 in its last four tries, dating to 2004. It has lost to Montreal twice in that span and dropped a seven-gamer to Philadelphia last year after taking a 3-0 lead in the series. Boston is only the third team in NHL history to not advance after taking a three-game lead in a seven-game series. The Bruins' last Game 7 win came in 1994.
Yet, Boston is ready to embrace its latest Game 7 opportunity. After all, there is little other choice.
"I think 5-on-5 we were a very good hockey team tonight," Recchi said. "We have to take that positive and go home. We'll have our home crowd and it'll be exciting. We've been in this before. We have to stay focused, stay relaxed and go from there."