Bruins' focus: create more traffic in front of Price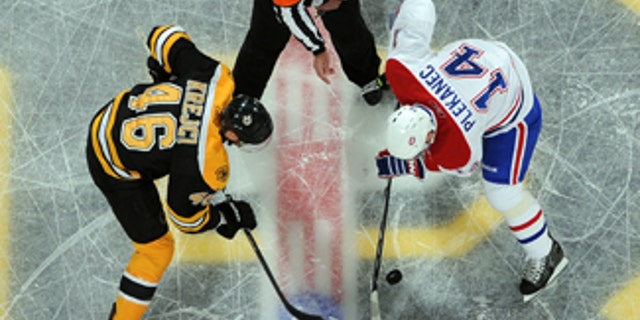 WILMINGTON, Mass. -- Boston coach Claude Julien acknowledged that, in this particular case, practice would not make perfect.
Yet, he still spent much of Friday's 45-minute practice session at Ristuccia Arena running his charges through a variety of down-low drills.
The Bruins' forwards were required to do a variety of cycling drills, as well as work on tipping shots from the point and positioning in front of the crease.
Boston believes it was sorely lacking in all those areas in Game 1 and that was the primary reason Carey Price was able to stop each of the 31 shots he faced in the 2-0 victory to open this best-of-7 Eastern Conference quarterfinal series.
"We went through some drills we go through all year long," Julien said after the brisk skate was finished. "We know we have to be better down low and stronger on the puck. Part of it was that, but part of it was we know we have to be a little bit more involved. Some of the net-front presence is not necessarily something you have to practice, more than it is a mindset. If we commit ourselves to get there, we'll get there. Sometimes, you have to work through it."
The Bruins forwards appear committed to the cause for Saturday's pivotal Game 2 after wavering somewhat in Game 1.
Many of the Bruins were quick to give Price praise for his Game 1 heroics, but they were just as quick to blame themselves for making the night far too easy on the young Montreal goalie who had struggled mightily in his previous two regular-season starts at TD Garden.
"He is a very good goalie," said Boston forward Brad Marchand, who had a team-high six shots in Game 1. "Anytime he sees the puck, he's going to stop it, no question about that. We just have to make sure we try to take his eyes away."
Boston worked on ways to do that Friday, getting a crash course in the techniques to make it possible.
"Sometimes you maybe lose that instinct around the net; getting traffic, getting there and bearing down," forward Michael Ryder said. "That's what we worked on today, making sure we get traffic, get shots and find the back of the net and give us some confidence."
Now they just have to apply the elbow grease and the mental fortitude to make those lessons a reality in Game 2.
Montreal makes the task of getting into the slot all the more difficult by asking its forwards to also collapse into the slot and help form a defensive umbrella around the goalie. Thursday, it was not uncommon to see four Canadiens standing within five feet of Carey Price virtually every time Boston took a shot.
"They got a lot of big strong d-men and they really push guys out in front of the net," Marchand said. "I think they know if they do that, then Carey is going to save the puck. You really have to work to get around their d-men to battle to stay in front there."
To a man, the Bruins agree hard work will be the key.
"I think they try to box you out and not let guys get in front," Ryder said. "They try to let Price see that shot because he is going to save them most of the time. I think what they try to do is not let guys get there and get the rebounds.
"They did a good job of that last night, and we have to make sure we battle through that. It's all about work and a desire to get there. I just don't think we did a good enough job doing that last night, getting to the net."
While it is mostly about desire when it comes to breaching Montreal's protective wall around Price, it also has to have a tactical element.
The Bruins can't just hammer away from the points as they did in Game 1. Montreal willingly allowed the long-range shot -- believing, rightly, that their defensive posture would allow Price to play to his strengths.
"No, you have to make sure somebody is in front of the net," Boston defenseman Dennis Seidenberg said.
Expect to see Boston be more strategic with the placement of their dump-ins Saturday night, hoping to put the Montreal defense under more duress on the forecheck.
Thursday night, power forward Milan Lucic talked about his line opting for the dump-in option on more occasions just to disrupt Montreal's suffocating coverage of No. 1 center David Krejci.
"We have to enter the zone better and then once we dump it in, we have to get after it," Seidenberg said. "Once we do that, we have to get pucks to the net and battle. It's always about puck battles and being strong in front of the net."