Bruins D Seidenberg: Trade rumors were 'slap in the face'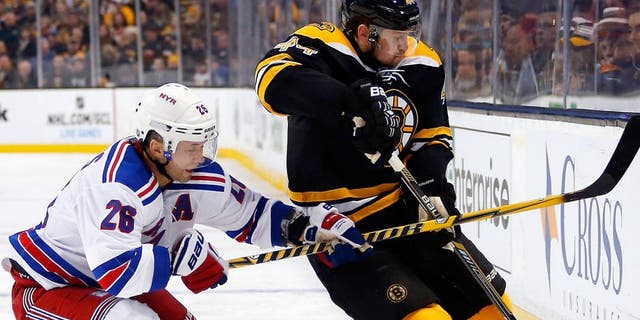 Boston Bruins defenseman Dennis Seidenberg said he wasn't worried about getting traded over the last year -- he has a full no-trade clause, so he would have to approve any trade should one actually happen. But that didn't mean he wasn't disappointed to hear his name make the rounds in trade rumor talk both over the summer and before the trade deadline.
Seidenberg spoke to the Boston Herald recently about the rumors and said GM Don Sweeney never asked Seidenberg to waive his no-trade clause, but Seidenberg said he is still motivated by the talk alone.
"The thing that bothered me was that people even talked about it," Seidenberg said to the Herald. "That's kind of a slap in the face. It means you're not playing your best, and you obviously want to play to a level where people don't question you."
The 34-year-old Seidenberg has played for the Bruins for six years now, and last season marked the first time he finished the year with a negative plus-minus rating (minus-1). Seidenberg was technically healthy last year and was able to play in all 82 games, but he was still working on recovering from a 2014 surgery to repair his ACL and MCL. The defenseman said he did not feel fully comfortable on his leg until December of last season.
This fall, Seidenberg is back in Boston and looking to recover from a down year both in terms of his personal play and the team's overall performance, and he said he will use the trade rumors as motivation.
"You never like people to write those kinds of things about you," Seidenberg told the Herald. "It just means that you have to work harder and do better."
(h/t Boston Herald)