Bruce Arians on Chandler Catanzaro's 24-yard miss: 'This ain't high school, baby'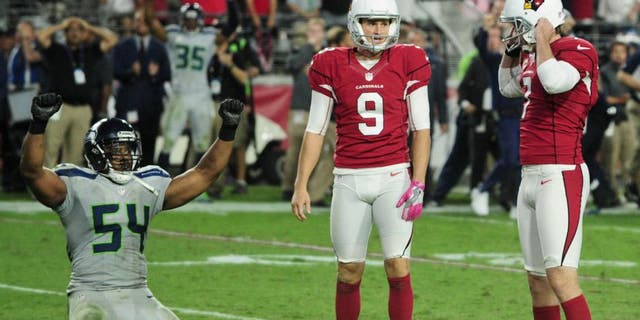 Sunday night's rivalry battle between the Arizona Cardinals and Seattle Seahawks was one of the most unpredictable and weird games you'll ever see, ending in a 6-6 tie after 75 minutes of play.
The reason it ended in a tie is because both kickers -- not just one -- missed chip-shot field goals with a chance to win the game. That's right: Both Chandler Catanzaro and Steven Hauschka had attempts under 30 yards to seal the win in overtime, and both failed to knock it through the uprights.
After the game, Catanzaro attempted to explain what happened on his kick, though there isn't really an excuse for missing a 24-yarder.
"I just came out of it too fast," Catanzaro said, via the team's official website. "No excuse for those. … The situation happens quick, and my body didn't do what it's supposed to do."
It's hard to fathom how an NFL kicker clanks a ball off the uprights from 24 yards out, especially with the game on the line and so much riding on this game. The Cardinals dropped to 3-3-1 with the tie, missing out on the possibility of moving to 4-3 and just a half-game back of the Seahawks in the NFC West.
Head coach Bruce Arians was understandably frustrated at the sight of Catanzaro's miss, and he's not exactly making excuses for his kicker.
"Make it," Arians said. "He's a professional. This ain't high school, baby. You get paid to make it."
The field goal was slightly longer than the old extra-point distance, which kickers hardly ever missed. Fortunately for him, Hauschka also missed his potential game-winner, albeit from 4 yards further.
Arians wasn't just upset with his kicker. He was less than pleased with the officials for not calling a penalty on Bobby Wagner earlier in the game after he jumped over the center to block a field goal. It was a perfectly legal play as Wagner cleared the line, but Arians disagreed.
"He definitely touched him," Arians said of Wagner. "I'm sure I'll talk to the league and we'll get some kind of explanation that's all [expletive} like normal."
Hauschka didn't offer any excuses for his miss, which was wide left by at least 10 feet, but it's clear his miss was a mental issue. The Seahawks were also rushing the kick, opting not to take a timeout, which would have given Hauschka more time to set up.
In all, it's nearly impossible to explain how two professional kickers miss game-winners from inside 30 yards. It's something that hardly ever happens, if at all. Now, both teams move on with a tie that certainly feels like a crushing loss.