Browns to have training camp fans register for 'Manzielmania'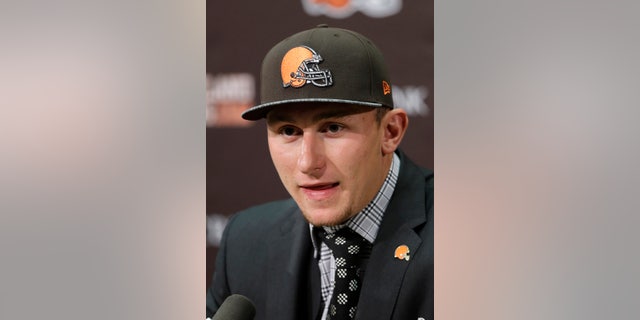 NEWYou can now listen to Fox News articles!
CLEVELAND – The Browns have a game plan to manage "Manzielmania" this summer.
Expecting huge crowds to see popular rookie quarterback Johnny Manziel compete with Brian Hoyer to be Cleveland's starter, the Browns plan to have fans register online to attend their training camp.
The Browns can only accommodate roughly 5,000 fans at their facility, and Browns President Alec Scheiner tells The Associated Press the team will have fans sign up beforehand so "that we don't turn away 2,000 or 3,000 fans who just show up." Scheiner says the team will announce when capacity is reached, but fans can still come and wait to get in.
The team is still working out final details of the new registration process. Scheiner says camp will remain free of charge and that the club never considered an admission fee.
Manziel's arrival has created a buzz around the Browns, who moved up in the first round of the NFL draft to select the celebrated Heisman Trophy winner who hangs out with rapper Drake and has NBA superstar LeBron James as a business partner.
Scheiner said the Browns' season-ticket base has grown by over 4,000 since Manziel was picked. His No. 2 jersey is on store shelves in the Cleveland area and is already one of the league's top sellers before he has played in a game.
Manziel is currently behind Hoyer on the depth chart, and there's no guarantee he'll move up when the season starts. But that won't stop fans from flocking to see Johnny Football, who caused a stir last weekend by taking a trip to Las Vegas.
Manziel was in Los Angeles on Friday to attend the NFLPA Rookie Premiere with 34 other rookies.
The Browns set attendance records at training camp last year and Scheiner anticipates this year's crowds to "be a little bit better."
"It's exciting, and it's fun," he said. "We're getting better."
Scheiner, who spent eight years with the Dallas Cowboys before he was hired by Cleveland after the 2012 season, said the Browns have begun looking into moving their camp to a college campus in the future. The team previously trained at Bowling Green (1946-51), Hiram (1952-74), Kent State (1975-81) and Lakeland Community College (1982-91) before holding camp in Berea, their year-round training headquarters.
Scheiner pointed out there are many challenges in moving training camp, including transportation costs, getting practice fields up to NFL specifications as well as housing.
"We'll look at it," he said. "If there's something that makes sense, we'll look at it. If there's not, we won't. But we're going to start looking at it carefully."
If the Browns do move camp, Scheiner expects the new location to be within driving distance of Cleveland.