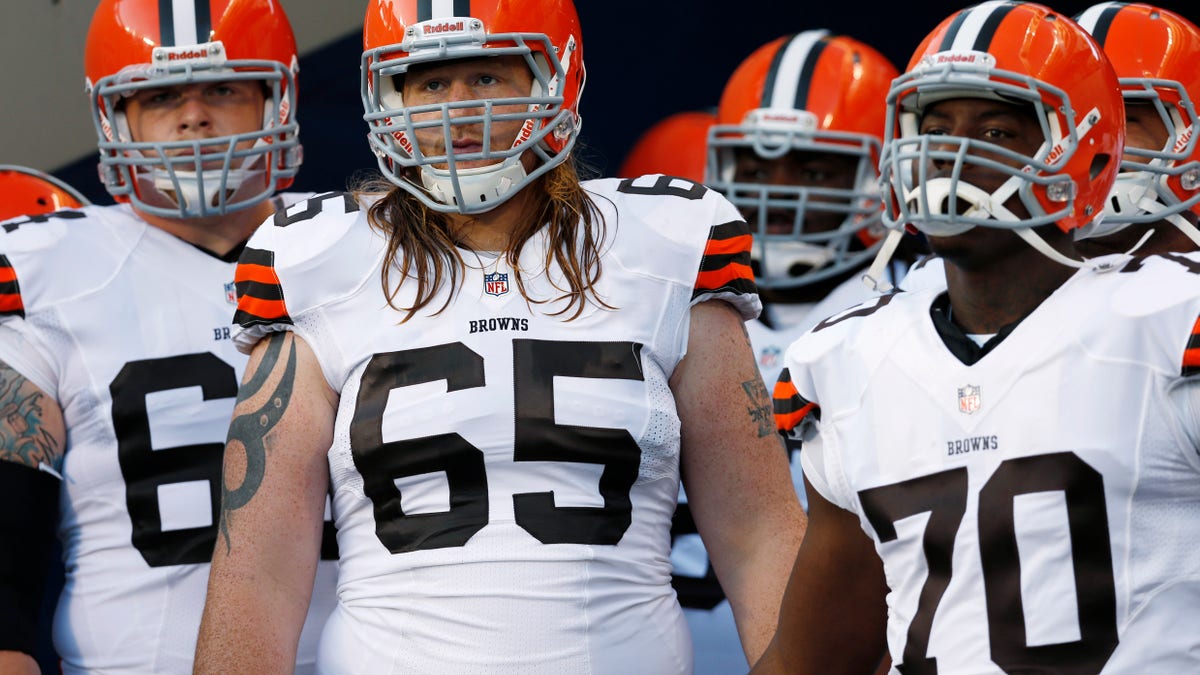 BEREA, Ohio – Ridiculed as an awkward high school kid, Garrett Gilkey knows the pain of being bullied.
The tears. The self-doubt. The longing to belong.
But Cleveland's rookie offensive lineman, who has become an anti-bullying advocate, can't fathom the suffering endured by Miami's Jonathan Martin, who left the team last week because of emotional issues. The team has since suspended teammate Richie Incognito for his treatment of Martin.
"I can't imagine what he has gone through the past year and a half," Gilkey said of Martin on Tuesday as the troubling situation with the Dolphins became a bye-week topic for the Browns. "I don't care if you're a 24-year-old NFL lineman, bullying is the same as if you were a 9-year-old girl. I can't help but feel for Martin, knowing that it was a very real battle and I've felt that battle growing up.
"I know that struggle and I can't imagine that in such a high-stress job and having to go through that."
It hasn't been easy, but Gilkey, a seventh-round draft pick from Chadron State, has been able to move on from the traumatic taunts and pranks of his youth. Gilkey spoke openly about being booed during a school assembly for being on the scholastic team, having someone urinate in his baseball glove and once being pinned down and having a "soiled bodily device thrown in my mouth."
Gilkey has empathy for Martin, who allegedly received racist and threatening text messages from Incognito.
"It's one thing when you're a little kid and you go to your parents back at home," said Gilkey, who was forced to transfer in high school to escape harassment. "In the NFL, your familiarities are small and the likelihood of having family and friends near you and by you is very small, so being on your own essentially and having to constantly being scared or however you're going to be hazed or ridiculed or made fun of, it doesn't matter how old you are or how big you are, no one should have to go through that."
Three weeks ago, Gilkey spoke to a group of middle school students in Peninsula, Ohio, never thinking his message of tolerance and togetherness would become something he and his teammates would be addressing in the context of the Miami mess.
In explaining how bullying can break someone, Gilkey equated a person to being like a sponge with the capacity to handle only so much.
"One of the key messages that I gave was essentially the school is like a team and you have to lean on each other if it's going to function the way it's supposed to," he said. "I can't help but have empathy for Martin, knowing that a team is supposed to be a unit. It's supposed to function together as one and those feelings of separation can be very damaging, and evidently it's just a matter of time when the sponge has to release."
Gilkey characterized Cleveland's locker room as being "healthy" and other than having to sing a country and western song in front of the team, he has not been subjected to any "hazing" during his first year as a pro.
"There's a difference between being heckled by veteran teammates or joked around with by older teammates when there is as relationship there," Gilkey said. "When you have a relationship with guys and you are able to talk to guys and have a close relationship, that's different. It's like having an older brother. You love your younger brother, and you're going to pick on your little brother, and so I think that is the difference. When there is no relationship in the context, it creates bullying."
Browns linebacker D'Qwell Jackson said every NFL player goes through some rite of passage, but it's usually something as innocent as bringing doughnuts for the veterans, or, in his case, baby-sitting former teammate Andra Davis' kids.
Jackson said there is an understanding of the line between what's suitable and what's off limits and the Browns know not to cross it.
"There's obviously the rookie hazing where you shave a guy's head or things like that," Jackson said. "That's all fun. Your hair grows back. We wouldn't cut off Garrett Gilkey's hair because he has long hair. You wouldn't do that to a guy. It's all in fun. You've got to have fun.
"When a guy feels like he's being singled out, that's not acceptable at all."
Gilkey isn't surprised by reports that Incognito, who has been suspended indefinitely by the Dolphins, claims he was once bullied.
"It can be a vicious circle," he said. "A lot of times with individuals who were bullied they have this cycle where they struggle to find that affirmation. So later on you will see kids who were bullied will bully other children because of that inner struggle for affirmation."
Gilkey said his strong faith has allowed him to become mentally strong.
He prays Martin will one day have the strength to move on, too.