Browns rookie DeShone Kizer explains why he isnt thinking about starting right now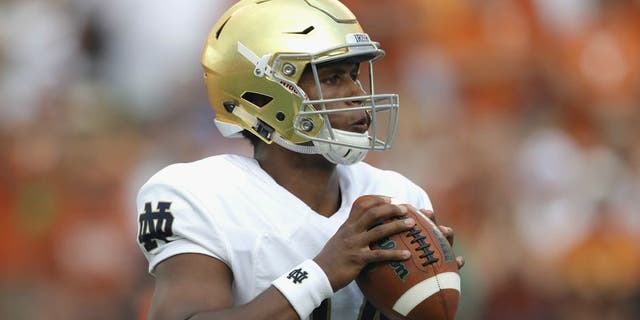 The Cleveland Browns have a lot to sort out this offseason, but the biggest question mark remains at quarterback the position that has plagued the franchise for two decades. The main competition will be between Cody Kessler, DeShone Kizer and Brock Osweiler with the best man in practice winning out.
Kizer has the highest ceiling of the bunch, but his floor might be the lowest, too. While he has the makings of a franchise quarterback, hes also raw and probably a year away from being a starter. He didnt go as far as to say hell need a season of riding the pine, but Kizer realizes hes not ready to start right now.
"There's so much I need to learn before I can even consider thinking about competition and trying to play," Kizer said, via the Cleveland Plain Dealer. "Right now, I'm at step one. I need to get to level 500 before I can even consider stepping on an NFL field."
If Kizer can play the way he did in 2015 before regressing last season, he should win the starting job. He was far better two years ago at Notre Dame than he was this past season, ultimately finding himself benched in the middle of the season.
Matt Cashore-USA TODAY Sports
Fortunately, he landed in a good situation with quarterback guru Hue Jackson. His expertise in developing signal-callers should help Kizer rise up the depth chart, at least passing Brock Osweiler in that regard. Taking the job from Kessler will be a bigger challenge, considering Jackson has said its his to lose.
"I'm not babying him -- that's for sure -- because the other teams won't baby him, either," Jackson said. "He just has to get used to it, and I think he has. He's been outstanding that way. He gets it. He knows that my charge for him is a consistency level at a high level all of the time, and that is not going to happen in two days."
Kizer has been hard at work studying the Browns offense, which is the first step towards becoming a starter. Once he learns how to call plays in a huddle and grasp the scheme that the Browns run, then hell be able to take the next step.
"The only thing I've been studying is the playbook," Kizersaid. "Once again, I can't even worry about playing my first year nor competing in practice in a couple of weeks until I understand how to run this offense."
As of now, we should expect to see Kessler starting in Week 1 with Kizer his primary backup. Who knows where Osweiler will be -- he's not going to start for the Browns -- but being released is a real possibility.
AP | Copyright The Associated Press. All rights reserved.