Browns RB Crowell says he has what it takes to be starting guy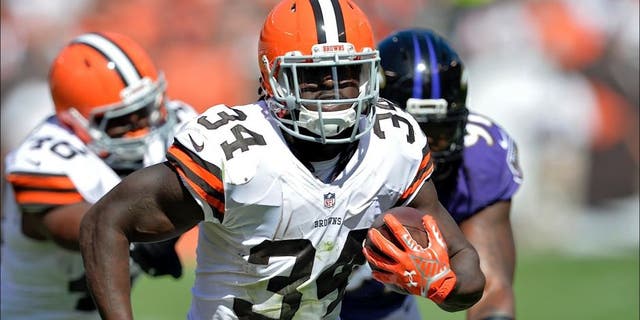 Consider the message received. One day after Browns running backs coach Wilbert Montgomery dropped the hammer on his backfield, Isaiah Crowell says he plans to work harder in pursuit of a starting job.
Montgomery caused a stir in the running backs room by telling reporters that neither Crowell or Terrance West arrived at camp in "tip-top shape" while also adding that neither is showing the hunger to become the team's bell-cow back.
Crowell, who has gotten most of the first-team reps over the last week with both West and rookie Duke Johnson ailing, seems to have gotten the message loud and clear.
"I feel like it's very important (to win the starting job),'' Crowell said per the Northeast Ohio Media Group. "Just because everybody wants to be the starting guy, nobody wants to be a backup and I feel like I have what it takes to be the starting guy.''
Crowell thought he was working hard enough and thought he was in good enough shape, but said he realizes he needs to do more on the practice field and in the film room.
"I felt like I was in OK shape, but obviously I wasn't in good enough shape for them and the coaches or whatever. So I've got to do my part in getting in better shape.''
Crowell acknowledged that the running backs discussed Montgomery's comments on Monday, but he he'd rather let his actions do the talking going forward. Currently listed atop the depth chart practically by default, Crowell will get his first crack in Thursday night's preseason opener against Washington. West has only been back for two practices since missing time with a strained calf, and Johnson has already been ruled out.