Browns' Pettine sticking with Josh McCown over Johnny Manziel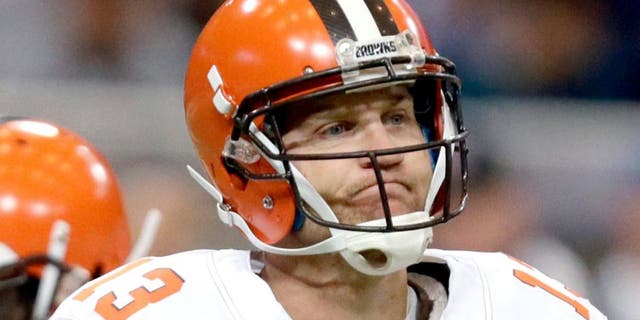 Browns coach Mike Pettine says Josh McCown will remain his starting quarterback when healthy. Tom Gannam AP Photo/Tom Gannam
Browns head coach Mike Pettine knows the calls will be coming for Johnny Manziel to step in as the team's starting quarterback.
McCown has been banged up, the Browns are 2-5, and the remaining nine games would be a good time to evaluate if Manziel really is the franchise's quarterback of the future. Pettine doesn't see it that way, at least not yet.
"If our starting quarterback is physically able to play, will we play him?" Pettine asked rhetorically via The Medina-Gazette. "Yes."
Manziel replaced a battered McCown late in garbage time of Cleveland's 24-6 loss in St. Louis on Sunday. McCown took a lot of hits, and eventually succumbed to a right shoulder injury when he was hit from behind as he tried to unleash a pass. McCown finished 26 of 32 for 270 yards with no touchdowns, also losing two fumbles.
McCown said Monday that he was "sore but getting better" and Pettine indicated that he will probably hold his quarterback out of Wednesday's practice. If McCown is unable to go, Manziel will be the starter, despite the recent controversy from a domestic incident with his girlfriend swirling around him.
The NFL has reportedly scheduled an interview with Manziel as part of his investigation, but Pettine doesn't anticipate it interfering with Manziel's preparation this week.
"They understand the schedule that we're in," said Pettine. "I'm sure that if there's some type of immediate result to it, they would let us know as soon as possible."