Browns No. 1 pick Erving poised to make first NFL start in place of Bitonio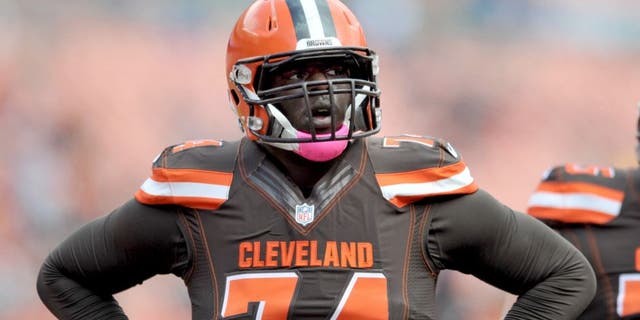 Browns rookie Cameron Erving is set to make his first NFL start Sunday in Pittsburgh. Diamond Images Nick Cammett/Diamond Images/Getty Images
Cleveland Browns rookie offensive lineman Cameron Erving is set to make his first career start in place of injured left guard Joel Bitonio this Sunday in Pittsburgh.
Head coach Mike Pettine wouldn't disclose details about the ankle injury Bitonio suffered in Cincinnati last week, other than saying he could "potentially be down for a while." Bitonio initially suffered the injury in the first half but returned in the second before giving way to Erving for the final nine snaps of the night.
Erving, the 19th overall pick out of Florida State, was drafted for his versatility along the offensive line. Originally a defensive lineman in college, Erving switched to offense and starred as a left tackle before moving to center. The rookie spent most of his training camp at right guard trying to beat out John Greco, but was relegated to a sixth man role, seeing 34 offensive snaps through nine games.
"I'm a football player, and I like to play football so I'm going to put everything I have into what I'm playing that week or what the team needs me to do," Erving said via the team's official website. "All of those questions, honestly, are irrelevant to me. I'm just going to go out and I'm going to play football, regardless of what position I'm at."
Erving will play alongside stalwart left tackle Joe Thomas, who likes what he sees out of the young rookie.
"I think he is ready," Thomas said. "I am excited to see what he can do out there in a full game. He got a little bit of a taste last week ... Now it is time to do it on a big stage against our biggest rival."