Browns lose in most Browns way possible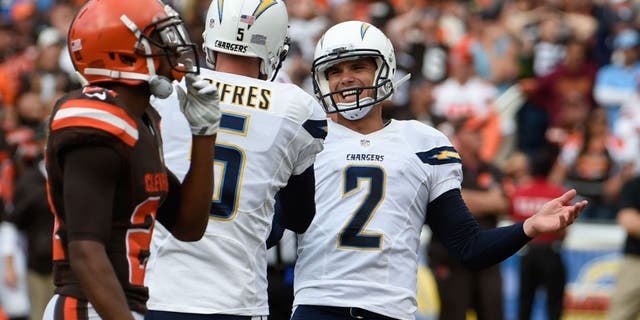 NEWYou can now listen to Fox News articles!
Browns fans must be having images of Dwayne Rudd flashing through their heads.
Just when it looked like Cleveland had done enough to force overtime, another yellow flag interfered. While Rudd's penalty for prematurely removing his helmet in celebration back in 2002 cost the Browns a victory, the offsides penalty on Traman Williams in San Diego on Sunday isn't any easier to swallow. Follow along as we take you from the thrill of almost victory to the agony of another Browns defeat.
Things were looking good when Mike Pettine won a challenge on a terrific juggling catch by Gary Barnidge inside the Chargers' 5-yard line and the Barnidge caught a touchdown pass two plays later.
Now a two-point conversion stood between Cleveland and a tie game. Presto! Josh McCown finds Taylor Gabriel to tie it with 2:13 left in regulation. The Browns are in business. Overtime is on the horizon if they can keep Philip Rivers and the Chargers off the scoreboard in the final two minutes.
Uh oh. Danny Woodhead breaks lose for a 19-yard run right up the middle and the Chargers are already in field goal range. Now they can just run out the clock and kick the game winner from 39 yards away.
But wait, San Diego does have a rookie kicker. Maybe he'll wilt under pressure and send the game into overtime.
He missed! Wide right! The Browns are rushing off the field in excitement.
Wait a minute. There's a flag on the play. It's on the Browns. Traman Williams jumped the gun trying to get around the edge. Re-kick. Not even the Browns' official Twitter account can handle it.
Game over. Browns lose. For the eighth time in nine games.
Johnny Manziel congratulates his old college teammate, Josh Lambo, the hero kicker for the Chargers.
The sadness continues.
MORE NEWS: Want stories delivered to you? Sign up for our NFL newsletters.