Browns GM explains his team's 2017 plan for rookie QB DeShone Kizer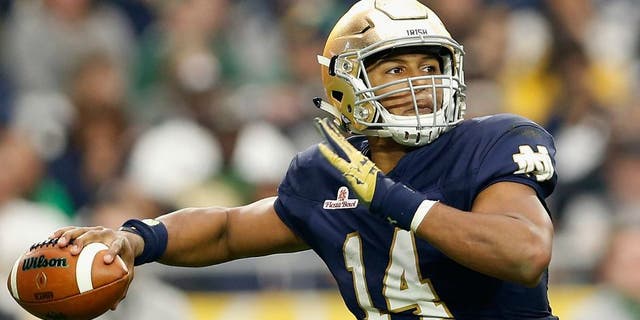 The Cleveland Browns had a terrific draft weekend, landing not only three first-round picks, but also a potential franchise quarterback in DeShone Kizer. Myles Garrett, Jabrill Peppers and David Njoku figure to play significant roles right away, but itll be a different story for Kizer.
The Browns have Cody Kessler and Brock Osweiler in the mix already, allowing them to take it slow with the former Notre Dame quarterback. And not surprisingly, thats exactly how the Browns will handle his situation.
Sashi Brown said on Tuesday that the Browns wont put any pressure on Kizer to be the starter in Week 1, or even as a rookie, for that matter.
I think ideally wed be able to come in and give DeShone some time," Brown said. Hue [Jackson] talked about this as well about not preventing him from going out there and doing anything, but making sure he understands that he doesnt have to feel like he has the pressure on him to be the Week 1 starter, or even the 2017 starter at some point.
Matt Cashore-USA TODAY Sports
The biggest knock on Kizers game was his accuracy issues and lack of development as an NFL quarterback. Brian Kelly admitted he probably should have stayed in school for another year, saying he still has plenty of growing to do.
Although the Browns dont have a surefire starter to allow Kizer to sit for a season, they feel good about the players they currently have on the depth chart.
We like Cody, we like Brock, we like Kevin [Hogan]. And well see how that plays out, but he doesnt need to feel that pressure certainly. Hes a young man and hes going tohave a long timethat hes with us and in this league and if things go the way Im sure hes planning on it and the way we hope it goes, we dont have to rush it.
Kizer landed in a good situation with the Browns and Hue Jackson allowing him to sit for a season if need be, but theres also a chance he plays well in training camp and wins the job. That would obviously be a best-case scenario, but its good for him that the Browns dont feel the need to rush him into anything.