Browns FS Gipson, WR Hartline leave with injuries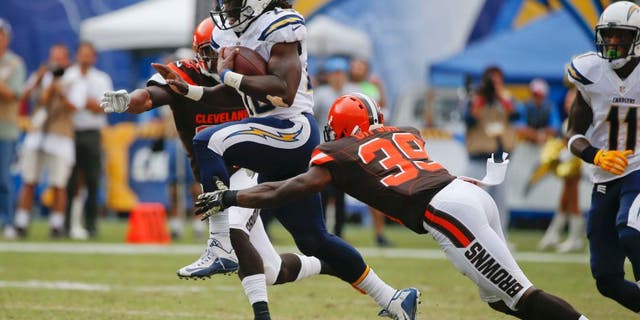 NEWYou can now listen to Fox News articles!
The Browns were without one-half of their starting secondary as the Chargers drove the field in the final two minutes on the way to a game-winning field goal.
Already without the inactive Joe Haden because of a broken finger, Gipson had his ankle rolled in the third quarter when he tackled Chargers running back Danny Woodhead at the end of a 61-yard catch and run. Gipson was already nursing a groin injury and did not return.
Also missing was receiver Brian Hartline, who did not return after taking a hit in the ribs in the first quarter. X-rays were negative. Hartline was also dealing with a thigh contusion, according to head coach Mike Pettine.
Pettine also said Gipson will be further evaluated on Monday. Running back Shaun Draughn also left the game in the third quarter with a back injury and did not return.