Browns coach Pettine: Dwayne Bowe not getting cut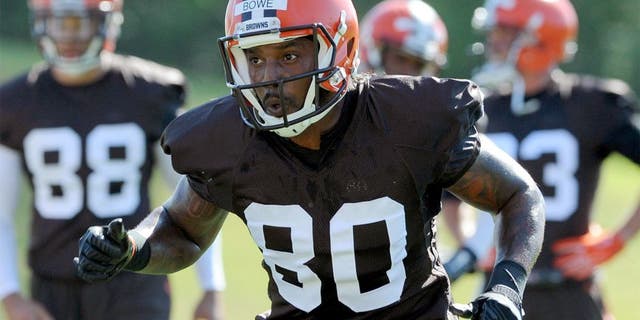 Browns coach Mike Pettine was quick to dismiss Thursday's in-game speculation that Dwayne Bowe was in danger of not making the team.
Despite the fact that Bowe played into the third quarter during the preseason finale in Chicago, Pettine said Bowe just needed to shake off the rust after missing time with a hamstring.
"Dwayne? No," Pettine said via Cleveland.com when asked after the game if Bowe's roster spot was in jeopardy. "He just needed to work, so that's why he was out there."
The questions came after Solomon Wilcots, broadcasting the game for Browns, said that Bowe needed to have a good game to avoid the roster bubble.
"Everybody at my position has to deliver," Bowe said after the game. "Going out there and showing it is the only way you can do it. I went out there and did my job, and that was it . . . It's about what you have shown me lately, and that's what this business is about."
Bowe signed a two-year, $12.5 million contract in the offseason with $9.5 million guaranteed, making it very unlikely he'd be cut so soon. Bowe was expected to become one of Josh McCown's prime targets. He caught 60 balls for 754 yards last year in Kansas City, but did not score a touchdown.
h/t: Cleveland.com