Browns already undercutting future general manager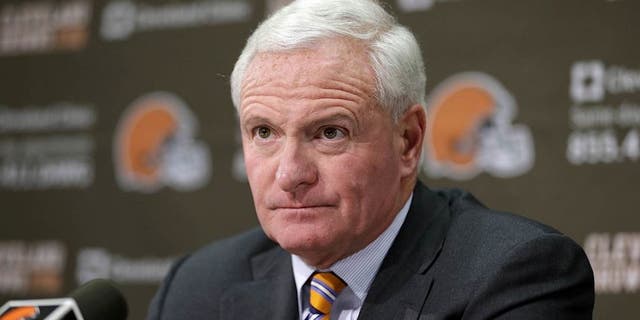 The next general manager of the Cleveland Browns won't have final say over the roster and won't be able to hire his own head coach.
That's according to the plan laid out Sunday evening by owner Jimmy Haslam shortly after the team dismissed GM Ray Farmer and head coach Mike Pettine. Haslam said that final say over the roster will be given to Sashi Brown, who was promoted from the role of executive vice president-general counsel to executive vice president of football operations. Brown has been with the organization since January 2013. Before that, he spent eight years with the Jaguars as the team's general counsel.
Haslam said the first order of business is to find a head coach, who will then participate in the hiring of the general manager. A four-person committee comprised of Haslam, his wife, Brown, and executive search consultant Jed Hughes will lead the hunt for a new head coach. Hughes has ties to Cleveland, having served as a defensive assistant on Bud Carson's staff in 1989. As part of the Korn Ferry search firm, he has assisted with the hiring of Pete Carroll in Seattle, Andy Reid in Kansas City and Bill O'Brien in Houston, according to Cleveland.com.
As Mike Silver of NFL Network noted Sunday night, the Browns have tried and failed with this approach three times already, but apparently Haslam believes a fourth time is a charm, believing it makes more sense.
So if the general manager doesn't get to pick the players or his coach, what exactly will his or her duties be?
There you have it, the future GM will get to build the draft board with his scouting department, only to let someone else make the picks. While the idea of having too many cooks in the kitchen is usually is a recipe for disaster, it appears Haslam finds the idea quite appetizing.
Last but not least, since the new general manager won't have final authority over the 53-man roster, Pro Football Talk's Mike Florio says that teams can keep their executives from interviewing for the job, meaning the Browns might be left with candidates from the scrapheap.
Haslam was more than willing to accept the blame for the francise's failures since his arrival, but his approach is already laying the ground work for another of these press conferences in another two or three years.