Brown still on thin ice despite win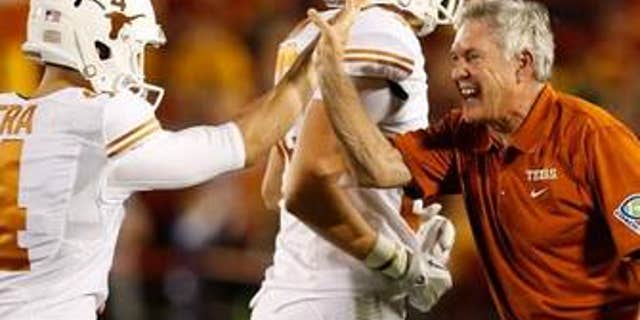 AMES, Iowa – If this is what saving your job looks like, I'm not sure Mack Brown wants to see what it'll look like when he loses it.
After Brown's Texas Longhorns squeaked out a 31-30 victory in the final minute against an Iowa State team that lost its season opener to an FCS school, DeLoss Dodds, the longtime athletic director who will retire in 2014 and who is Brown's biggest advocate, wandered onto the field, a look of relief on his face.
It was a road win against a Big 12 foe, and in college football, you take that any way you can get it. Still, the way the Longhorns got it on Thursday night was sloppy and ugly, at times baffling both in their play-calling and in their mental mistakes. Ask Iowa State coach Paul Rhoads and he'd tell you the Longhorns win was also helped by some blind referees, whose call on an apparent Texas fumble on the 1-yard-line led to the game-winning touchdown.
But for Brown -- who, after USC's Lane Kiffin was unceremoniously pulled off the team bus and fired last weekend after a loss to Arizona State, is now the head coach with the hottest seat in college football -- it wasn't exactly a win that inspires confidence from the Longhorn faithful. Iowa State outgained Texas by 100 yards. Texas needed a 44-yard Hail Mary touchdown pass at halftime to pull into the lead. Their defense blew a coverage and allowed a 97-yard touchdown pass in the third quarter.
It was a win, yes, but it wasn't a pretty one, especially going into the Red River Rivalry next weekend against 11th-ranked Oklahoma, which has beaten Texas three years in a row.
As Dodds crossed the field and hugged football players, he told me a win is a win, especially on the road. I asked him: Will Mack Brown continue to be your coach as long as you're the athletic director?
"He's always been my coach," Dodds replied.
Perhaps it's an obvious answer. The two are friends, and Brown has an impressive history in Austin: nine wins or more his first 12 years as coach, one national title and another appearance in a BCS title game, perhaps the best recruiter in the country. Why would Dodds fire the coach who brought him so much, especially when Dodds himself is now a lame duck?
But what Longhorn fans wonder is this: What has Mack Brown done for them lately?
The answer? Not much.
Since losing to Alabama in the 2010 BCS Championship Game, Alabama's head coach Nick Saban has gone in one direction -- toward perhaps becoming the greatest coach in college football history -- while Brown has gone the other. Since that loss, Brown's team have gone a middling 25-18. Non-conference blowout losses to BYU and Ole Miss have put Brown's job in jeopardy this season, and the near-loss to Iowa State won't help his cause.
Especially when the outcome was in doubt in the final minute, when Texas running back Johnathan Gray had the fumble-that-wasn't-a-fumble on the 1-yard line.
Though from Brown's postgame comments, however, you'd have thought the Longhorns just won the lottery.
"I'm so damn happy tonight," he said. "We played really hard. We didn't play well. A lot of things we messed up. But even better for us that we could not play our best, but we played so hard, and believed, and never gave up, and knew we could come back."
"I love comeback wins on the road more than anything in football," he said. "It just says something about your toughness and your team and believing. We're getting back something we lost. We couldn't have done this the last couple years. It was critical we came back and won this game because it tells them something about never giving up ... Everybody messed it up and we still won. That's pretty cool."
That can happen against a middle-of-the-pack, scrappy bunch like Iowa State.
But next week, against Oklahoma? That will be the game where we will get to see a clearer reckoning of Brown's future at Texas. That will be a game where playing hard but not playing well will not equal a victory, even with the help of referees.
"(We) don't worry about what the media says, don't worry about what anybody outside says, just play football," said Texas tight end John Harris, who caught the Hail Mary at the end of the first half. "We just wanted to win this just to win, so we could finally get that monkey off our back, get that monkey off (Brown's) back."
He paused for a second.
"We win next week? That monkey will be off his back."
It will. But after Thursday night's near-debacle, that sure doesn't seem likely.
Follow Reid Forgrave on Twitter @reidforgrave or email him at ReidForgrave@gmail.com.