Brown out? Questions about health of injured NC State PG dominate rematch with No. 4 Duke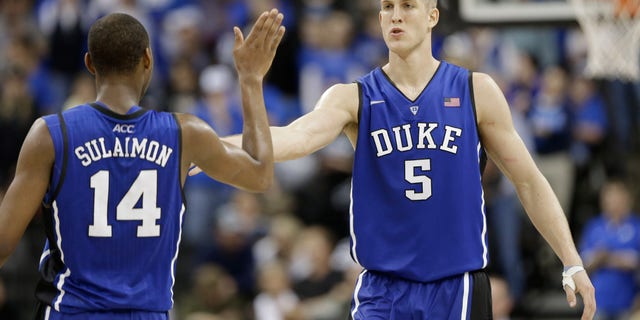 DURHAM, N.C. – Duke finally figured out how to play without Ryan Kelly. North Carolina State might have to do the same if Lorenzo Brown isn't healthy yet.
The Wolfpack visit the fourth-ranked Blue Devils for a rematch Thursday night, and while Duke knows it will be without one of its best players, N.C. State could be in the same situation if Brown's ankle isn't healthy enough to go.
After struggling mightily in their first few games since Kelly's injury, the Blue Devils (19-2, 6-2 Atlantic Coast Conference) have righted themselves, winning three straight to improve to 4-2 without the versatile power forward.
Now, depending on Brown's status, the Wolfpack (16-6, 5-4) may face a similar situation fter their first losing streak of the season has dropped them out of the Top 25 for the first time.
The current two-game slide coincided with Brown's injury. He sprained his left ankle during last week's loss at Virginia, and it kept him out of the home loss to Miami that followed.
Coach Mark Gottfried says his point guard is "day to day.
"It's hard for me to imagine he's going to be 100 percent by Thursday night," Gottfried said. "But again, I don't know that. We'll just have to see how he responds to treatment and if he can get to where he can plant and cut and move and sprint and jump."
Freshman Tyler Lewis played well in Brown's absence, scoring a season-high 16 points with five assists in a 79-78 loss to the Hurricanes, who pulled out the victory with a tip-in with 0.8 seconds left.
But there's no question the Wolfpack are a lesser team without Brown, whose baseline-to-baseline speed in transition and knack for finding his high-scoring teammates makes him one of the top point guards in the country.
"We're going to have to deal if he doesn't play, and if he plays, he's definitely going to make us better," forward Scott Wood said. "If he's not in there, it doesn't matter the situation or how much he would help us in that situation. We've got to cope with him being out."
The Blue Devils learned the hard way last month just how dangerous N.C. State is when Brown is clicking at full speed.
He had 12 points and 13 assists while pushing the go-go Wolfpack up and down the court in an 84-76 upset of then-No. 1 Duke in its first game without Kelly.
"We had times we were back, five on five," Duke guard Seth Curry said, "and he still pushed it down our throats."
The Blue Devils are quick to point out that they're a different team than they were for that Jan. 12 matchup.
With smaller Amile Jefferson and Josh Hairston splitting time in place of the 6-foot-11 Kelly — who's out indefinitely with a right foot injury — they've tweaked the way they play.
They emphasize screens over spacing to free up shooters Curry and Rasheed Sulaimon and work the ball inside to elite big man Mason Plumlee, and they've shot at least 52 percent in each game of their three-game winning streak.
"For us, it took a couple games" to figure out how to play without Kelly, Plumlee said. "Every team's different, depending on who you lose. You know it's a part of the season, though. Every season I've been here, we've had someone go down with an injury. So you almost — I don't want to say you anticipate it, but you know those things are going to happen, and you have to adjust."