Brooklyn Nets, Finally Healthy, Beat L.A. Clippers Handily; Brook Lopez Reinjures Ankle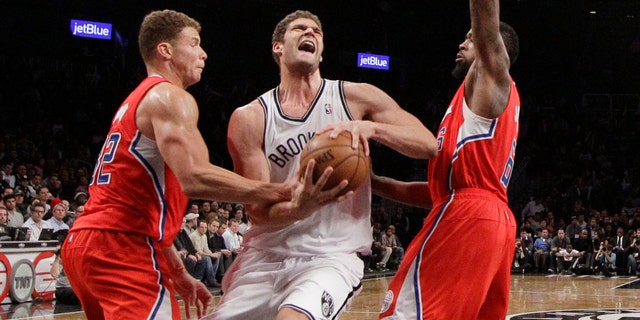 NEW YORK (AP) – Paul Pierce and Kevin Garnett share a championship with Doc Rivers and a bond that didn't break when they ended up on opposite coasts.
"I'll always have a special place for Doc," Garnett said.
Now the two veterans are trying to teach a new team what they learned from their old coach.
Andray Blatche and Joe Johnson each scored 21 points in the Brooklyn Nets' 102-93 victory over the Los Angeles Clippers on Thursday night, making Pierce and Garnett winners in their first matchup with Rivers.
Brook Lopez had 16 points and Deron Williams 15 for the Nets, who won their season-high third straight. Pierce scored 10 points off the bench in his second game back from a broken hand.
Chris Paul scored 20 points but had just two assists as the Clippers lost for the first time in nine games this season when he reaches 20.
Pierce and Garnett went 2-0 in a reunion tour of ex-Celtics this week. They helped the Nets beat Boston here Tuesday, then Rivers made an emotional return to Boston on Wednesday. Rivers said before this game he knew it would be fun because of how competitive his two former stars are.
It finally rubbed off on their new team, as the Nets were much more fired up than in some of their poor performances during an 8-14 start.
"We hope so. I think our experience, our competitiveness, our leadership, hopefully can rub off on everybody," Pierce said. "We're starting to see signs of that, and that's what we're here for."
Garnett had just two points but played rugged defense on Blake Griffin, hitting him so hard on one foul that officials originally called it a flagrant before overturning it when replay showed he'd actually hit Griffin in the upper arms, not the face.
Rivers coached Pierce and Garnett to the 2008 NBA title, but wasn't interested in remaining in Boston for a rebuilding era. The Celtics let him go to Los Angeles for a first-round pick. The Clippers wanted Garnett, too — and maybe even Pierce — but the teams couldn't find a way to make a deal that would've been legal under NBA rules.
Pierce and Garnett were eventually dealt to the Nets, and Rivers remains close with the duo. Garnett took a detour during his intense pre-jump ball ritual to stop at the Clippers bench for a hug with Rivers and his assistants from Boston.
"I was shocked that Kevin came over before the game because he has a routine," Rivers said. "I turned to (assistant Tyronn Lue) and said, 'Well, Kevin's going to struggle now. He just broke his routine.' But no, we talk all the time. It was nice. They were really happy about last night is basically what they both said."
Pierce chatted with Rivers a couple of times, joking that he knew all his plays.
Both players sat out Nets' loss in Los Angeles on Nov. 16, along with Williams and Lopez. The Nets are healthier now and finally playing good basketball — although Lopez landed awkwardly and reinjured his ankle, and it's unknown if he'll play Friday at Detroit.
Griffin had 12 points and 11 rebounds but shot 2 of 8 for the Clippers, who were a step behind on the sixth stop of their seven-game road trip that wraps up Saturday at Washington.
"We've got to put everything into that game," Paul said. "We're going to D.C. Washington is a team that's been playing well. We've got to win it. It's early in the season but it's a must-win for us so that we can at least feel somewhat decent for this trip."
The Clippers jumped to an 11-2 lead, but the Nets controlled the second quarter. Brooklyn outscored Los Angeles 19-7 over the final 4:41, turning a 37-all tie into a 56-44 lead, the final basket drawing oohs from the crowd when Williams shook free of Paul with a crossover dribble and into the lane for a layup.
Nets players and fans throughout the arena were on their feet when Blatche made three straight jumpers late in the third. The Nets gave him the ball for one final chance, but he missed and they took an 83-62 lead to the fourth.
Follow us on twitter.com/foxnewslatino
Like us at facebook.com/foxnewslatino