Broncos tight end Julius Thomas not basking in the success of his breakout season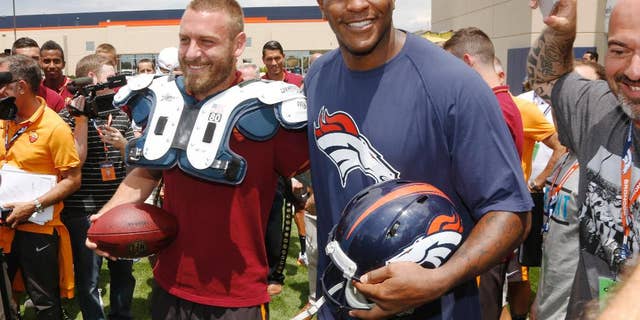 ENGLEWOOD, Colo. – Even after the fog lifted from the Denver Broncos' blowout in the Super Bowl, Julius Thomas was in no mood to celebrate his breakout season.
Coming off a Pro Bowl year in which he was a bulls-eye for many of Peyton Manning's biggest moments, it would have been easy for Thomas to sit back and act as if he's finally arrived after two injury-filled seasons.
Instead, Thomas watched hours of film to find flaws in his game and met with the recently retired Tony Gonzalez to pick his brain.
"We both happen to live in the southern California area, so we met up and talked a little football," said Thomas who asked Gonzalez's all about how he stayed a step ahead of opponents and maximized practices all those years, "just some things that only a future Hall of Famer and 17-year veteran would know."
He's now applying those tips at training camp.
"For him, it was all about preparation," Thomas said. "I think that's something that he and Peyton both have in common. You hear them talk about doing the little things and not overlooking aspects of the game."
That's why Thomas watched film to find the flaws in his game, not relish the highlights.
"When I go into tape back in April and we're breaking it down as a position group, you're ducking your head during certain plays, like, 'Oh, what was I doing there in Week 2? And what was I doing in Week 8?'" Thomas said. "Just seeing my progress throughout the year, I can't wait to show how much I've grown, continue to learn more and keep getting better."
After catching just one pass in his first two seasons, Thomas was the key to Denver's record-breaking offense last season. The 6-foot-5, 255-pound late-bloomer was a matchup nightmare for defenses, freed up Manning's other targets and earned his first Pro Bowl honor.
Thomas caught Manning's 51st TD throw that broke Tom Brady's single-season record, one of his dozen TD receptions that surpassed Hall of Famer Shannon Sharpe's team record for tight ends.
And he came up huge in the Broncos' two wins that got them to their first Super Bowl in 15 years.
About the only knock on Thomas last year was that his run blocking skills didn't match his route-running prowess, but when asked if that's his point of emphasis, he insists, "I want to get better across the board."
He said the film shows he has room for growth in the passing game as much as the ground game, he can protect the passer better against blitzing linebackers and he has to recognize things a tick quicker and make the "right adjustment on the fly."
That dogged determination pleases offensive coordinator Adam Gase.
"I think he's just going to keep getting better," Gase said. "He works so hard. He's a really smart player and person. So he understands what defenses are trying to do and I'm really excited to see what he can do this year."
So is Thomas, who basically has one season in the NFL under his belt after playing just one season in college. He didn't go out for football until he'd exhausted his eligibility on the hardwood, where he was a power forward and led Portland State to two NCAA tournaments.
Due for a huge pay raise either this year or next, Thomas isn't acting as if he's a man who's figured it all out, but one who accepts he's still raw.
"By no means do I think that I've peaked or reached my limitations on the football field," Thomas said. "I think it's a growing process. Every day, get a little bit better. Every season I learn more."
Manning loves hearing that Thomas sought out Gonzalez this spring and isn't getting big-headed.
"I like guys who are constantly trying to learn and get better," Manning said.
Notes: WR Emmanuel Sanders said he's surprised his recent comments on 104.3 The Fan radio in Denver suggesting Manning was a great leader were taken by some to mean he was trying to disrespect his former QB, Ben Roethlisberger. But he's not backing down on his assertion that "Manning is one of the best leaders ever." ... DE Derek Wolfe left practice with a recurrence of his lower back strain.
___
AP NFL website: www.pro32.ap.org and www.twitter.com/AP_NFL
___
Follow AP Pro Football Writer Arnie Melendrez Stapleton on Twitter: http://twitter.com/arniestapleton